Punjab National Bank customers can now switch ON/OFF their ATM Debit card. By doing this, you can avoid fraud and misuse associated with your debit cards. With the introduction of this feature, you will now have the facility that you can turn OFF your ATM card if it is not used, and if you have to use your Debit card, you can turn it ON.
You can switch ON/OFF your PNB ATM Debit card through Mobile Banking and net banking. Now you don't need to block your Debit card permanently if you lost it in your home. Jus turn it OFF and when you get it back, just turn it ON.
Switch ON/OFF PNB ATM Debit Card
If you have PNB mobile banking and net banking facility then you can also use switch ON/OFF ATM Debit card feature.
1. PNB Debit Card ON/OFF using Mobile Banking
Login to PNB One Mobile Banking application.
After login, tap & open Debit Card section.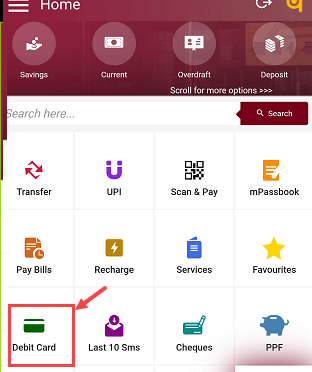 Now tap on Quick On/Off option.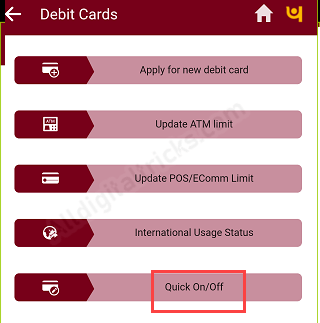 Next screen select your Debit card and turn ON (temporarily lock all transactions).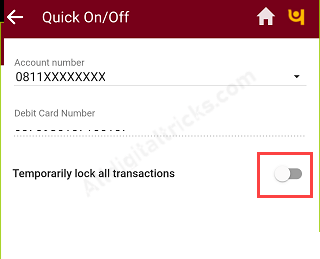 That's it, now your Debit card has been locked temporarily. You can unlock it by turning off this option.
2. Lock/Unlock PNB Debit Card using Net Banking
Login to Punjab National Bank Internet Banking.
After login, click on Value Added Services – emergency Services – Debit card ON/OFF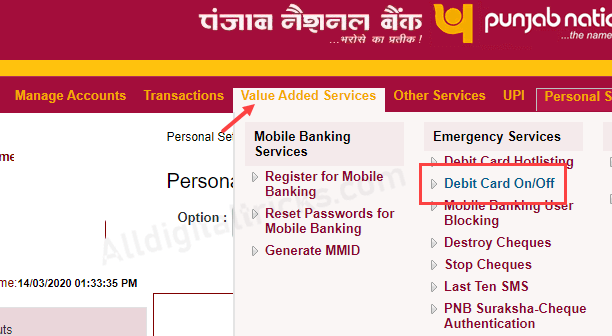 Now select your account number and click on view status.
Next screen enter transaction password and click on Switch OFF. In the same way, you can switch ON your card.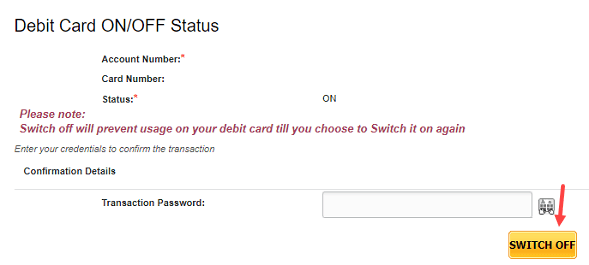 FAQ
Q.1: How to temporarily block the PNB ATM Debit card?
Ans: Instead of the permanent block, PNB customers can now temporarily switch ON/OFF their debit card and lock all transactions.
Q.2: How to lock/unlock my PNB Debit card?
Ans: If you wish to lock and unlock your Punjab National Bank Debit card then login to net banking or mobile and follow the above steps.