You can now transfer your SBI Account to another branch online. Yes, online account transfer facility is now available on SBI Internet Banking.
Now you can transfer your SBI Account to any branch in just 1 minute, no need to visit bank.
There may be several reasons for transferring your account to another branch. For example, your current branch is quite far away, your current branch staff behavior not good, you have shifted to another place and so on.
If you also have SBI Internet Banking facility and want to transfer your account to another SBI branch, follow this guide, and transfer your account online in just 1 minute.
Transfer your SBI Account to another branch online
I think everyone should have internet banking facility. Through Internet Banking, you can do all the banking related works at home.
Ok then, let's see how to transfer SBI account to another branch online through net banking.
1 First of all visit Internet Banking portal and login to your account.
2 After logging in to your account, you have to click on e-Services as you can see in the screenshot below.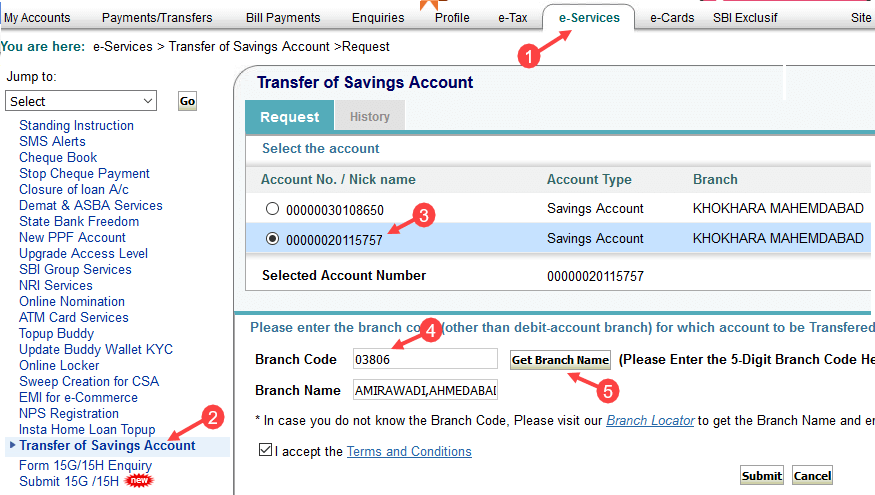 In e-Services, you can see Transfer of Saving Account option in left side, click on it.
Now select your account which you want to transfer.
In Branch Code, enter your new branch code where you are going to transfer your account. You can search branch code on Google.
After typing the branch code, click on GET BRANCH NAME button. As soon as you click on the Get Branch Name, the name of your new branch will be automatically added in Branch name.
Now submit your request by clicking on Submit.
3 Next screen check your request details and everything is ok then click on Confirm.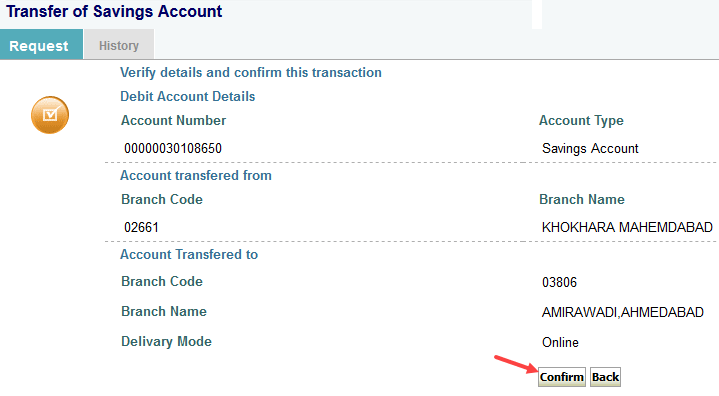 4 Now you will receive High Security password (OTP) on your registered mobile number, enter OTP password and submit.
Congrats, your SBI Account Transfer Request Successfully submitted.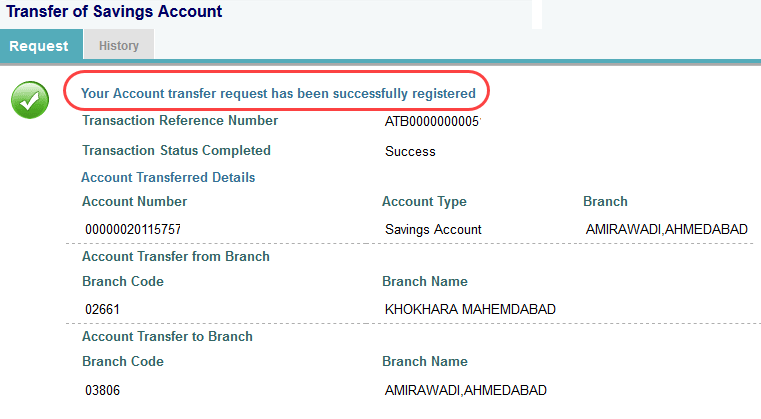 How much time it will take to complete Request?
Within just 1 week, your bank account will be transferred to your new branch. I have also transferred my account online to my nearest branch, which has been successfully transferred in 5 days.
How do I know that the account has been transferred?
It is very easy. If you see your online e-statement, you can see your new branch name.
Click My Accounts – View statement.
Also you can see your new branch name mentioned in My Account's Branch tab.
Do i need to visit my new branch?
Yes, to collect your new passbook you need to visit your new branch. Also confirm that account transferred successfully or not. You can visit anytime.
So this is how you can transfer your SBI Account to another branch online through Internet banking. No need to visit bank, SBI Change Branch facility now online!