India's largest telecom company – Airtel has now stepped into banking sector. This year, Airtel has started the Airtel Payments Bank, in which you can open your savings account.
Today I'm going to tell you how the Airtel Payments Bank will work, how to open your Saving Account, what will you get in it and what are its benefits.
First of all, know about Airtel Payments Bank.
About Airtel Payments Bank?
First of all, let me tell you that this is a different banking system. The way PayTM has started the payment bank, it is also the same.
In this you can only deposit 1 lac. You will also get all the benefits of banking such as Cash Deposit, Cash Withdrawal.
You just need aadhaar card to open the account. All work is paperless.
The company has opened its stores everywhere so you can easily deposit cash and also withdraw at any airtel outlet.
You can manage your Saving Account online. There is also the facility of Mobile Application and Internet Banking.
Overall it will be a your Digital Banking account.
So now let's see what you will get in the Airtel Payments Bank saving account and what are its benefits?
What will you get in Airtel Payment banks
All the facilities that a bank gives you will be given to you in the Airtel Payments Bank saving account.
See:
7.25% interest you will get, which is 3.25% higher than other banks.
You will get online Debit Card, currently Physical Card is not available.
Convenience of Cash Withdrawal & Cash Deposit
Your Mobile Number will be your Account Number
Online Money Transfer Facility
Manage your account on Mobile Application
Passbook, Cheque Book facility currently not available Today, you can transfer money online to any bank account so and you can see the bank statement online so these two are no longer needed.
Then let's open Saving Account in Airtel payments bank. The process is very easy and will not take much time.
Airtel Payments bank – Open Saving Account
To open saving account in the Airtel Payment Bank, you must have only Aadhar card nothing else.
So let's apply for Saving Account.
First of all, we have to register for Airtel Wallet, after you have got the Wallet you can apply for Saving Account.
1 First of all you have to install My Airtel Application in your phone. This application is available on Android, iOS. You have to manage your saving account on this application.
After installing My Airtel Application, open it.
2 On the first screen, you have to type your mobile number and tap on the Request OTP.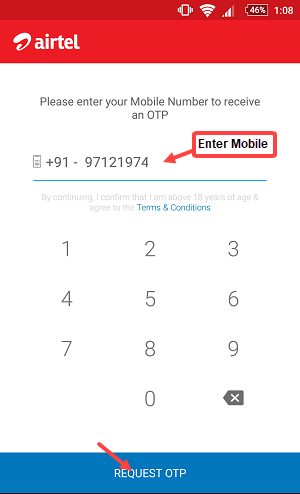 Now you will receive a OTP on your mobile which must be entered in the next screen.
3 Now set your MPIN in the next screen
Our Wallet ready, we can now apply for Saving Account.
Apply Saving Account
4 After logging into My Airtel, tap on Payments Bank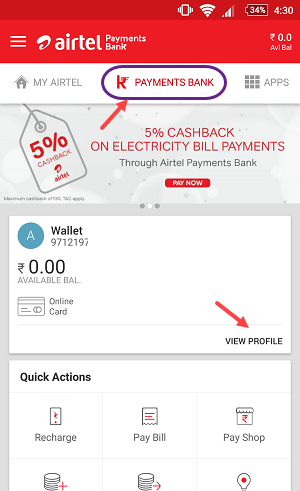 Here you have to tap on the View Profile.
2 Now tap on APPLY FOR SAVING ACCOUNT in the next screen
5 Now you have to type your 12-digit Aadhar number and tap on Proceed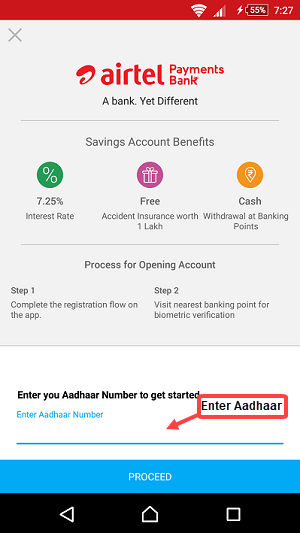 6 Now select your profession in the next screen, select your income and enter your PAN number.
7 In last step you have to fill the details of Nominee for Insurance Policy. You can register your father, Mother, Wife as nominee. Add their name and choose what relationship.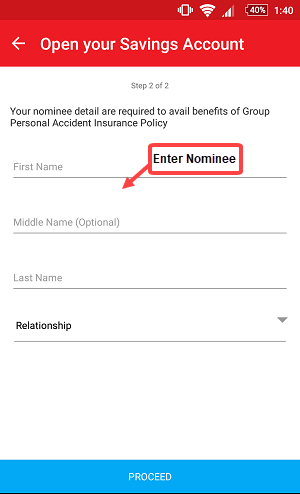 Great!You have submitted the request for Saving Account.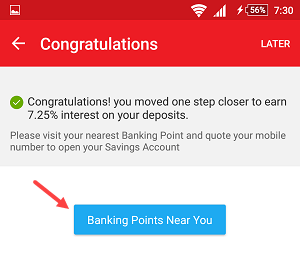 Now What Next Step?
Go to your nearest Airtel Store, click here to search your nearest Store – Click here
Take your aadhaar card and visit nearest store. The account opening process take only 3 minutes with e-kYC.
So your Airtel Payments Saving account has been opened.
How To Deposit Money?
You have two options for Money Deposit
Go to the Airtel Store and deposit cash
Add Online Money
How To Transfer money online
To transfer money you have to go to My Airtel and tap on Send Money.
After that, you can type the person's bank account details, enter amount and send.
Debit Card?
You will get online debit card which you can use online. Currently physical card facility not available but near future it will be available sure.
To see your Online Debit Card, open My Airtel Menu bar.
Tap online card here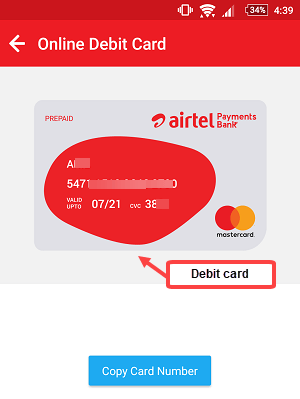 You can now view your Online Debit Card.
So this is how you can open Airtel payment bank account online.