HDFC customers can now easily open a Fixed Deposit account online through net banking, no need to visit the bank. You can open your HDFC FD account online instantly by following few steps.
HDFC Bank FD interest rate much higher compared than public sector banks. You can use HDFC FD calculator to calculate interest after maturity. Click here
If you are HDFC customer and planning to invest some amount in fixed deposit, then read this step by step guide and open your FD account online using net banking.
Open HDFC Fixed Deposit Online Using Net Banking
If you don't have net banking facility then read this and activate it online. Read: Activate HDFC Net banking online
Now follow these steps and open FD account instantly:
Step 1# Login to HDFC net banking, visit: https://netbanking.hdfcbank.com/netbanking
Enter User ID and login Password (IPIN) to log in.
Step 2# After login, click on Accounts — Transact and select "Open Fixed Deposit < Rs5 cr"
Select regular Deposit in FD type and select Withdrawable FD option
Place of FD, select Home Branch
Enter Deposit Amount (Minimum 5000 and maximum 5 Cr)
Nature of Deposit, you can select monthly, quarterly or maturity interest payout option.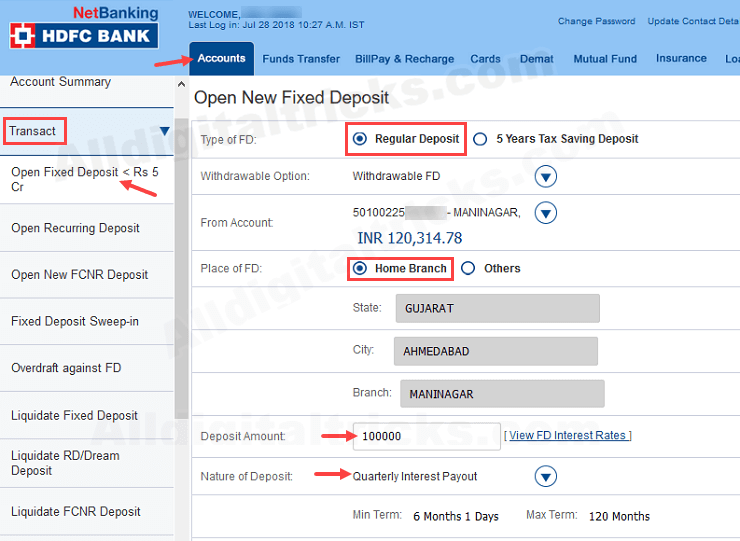 Step 2.2# Enter Deposit period (min. 6 month and max.120 month, in maturity instruction select renew or do not renew, you can also add nominee for FD account else you can leave it. Now click continue.
Step 3# Next screen check all details, you can see applicable interest rate here, click on confirm.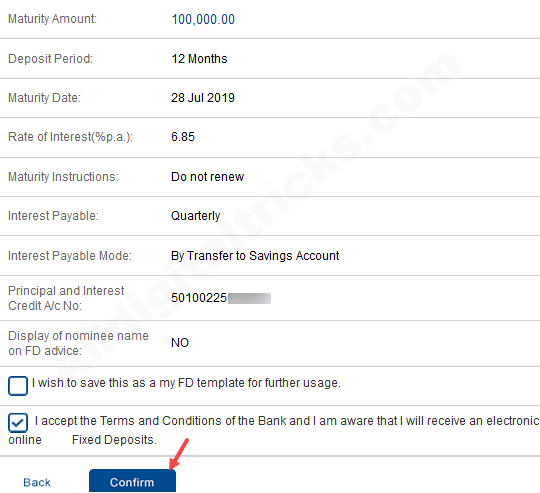 Congratulations, you have successfully opened a fixed deposit account. You can view the summary on next screen.
You can check your FD account details on net banking by clicking on Accounts – Fixed Deposit Summary or using mobile banking.
So this is how HDFC Bank customers can open FD account online through net banking without visiting branch or form filling.