Union Bank of India (UBI) customers can now apply/open fixed deposit (FD) online through net banking. Here we will show you step by step how to open FD online in Union Bank of India.
Union Bank of India (UBI) is one of the largest government-owned banks of India. All the bank's branches have been networked with its 6909 ATMs and 4214 branches. In UBI you can apply for saving account online.
To open FD in Union Bank of India, you just need net banking facility which you can activate online. Read: How to activate Union bank of india net banking online
See step by step Union bank of India FD account opening online process:-
Open Fixed Deposit online in Union Bank of India
For fixed deposit Interest rates, you can visit this link – click
Ok, let's apply FD account online:-
1: First login to your UBI net banking account by entering user ID and login password.
2: After login, click on Online FD tan as you can see below screenshot.
Enter Deposit amount as per your type of deposit.
Select your type of Deposit account. You can see below (scroll down) all types of deposit account. If you want monthly interest then select  FDR monthly scheme.
Select period for your FD as per your type of deposit account.
Enter nominee name, address, DOB and relation with nominee.
Select your Debit account to add money in FD account. Make sure your saving account has enough balance.
Now submit your account opening request.
3: Next screen enter your transaction password and proceed further.
4: Congrats, your Fixed deposit account opened. Next screen you can download or view FD receipt.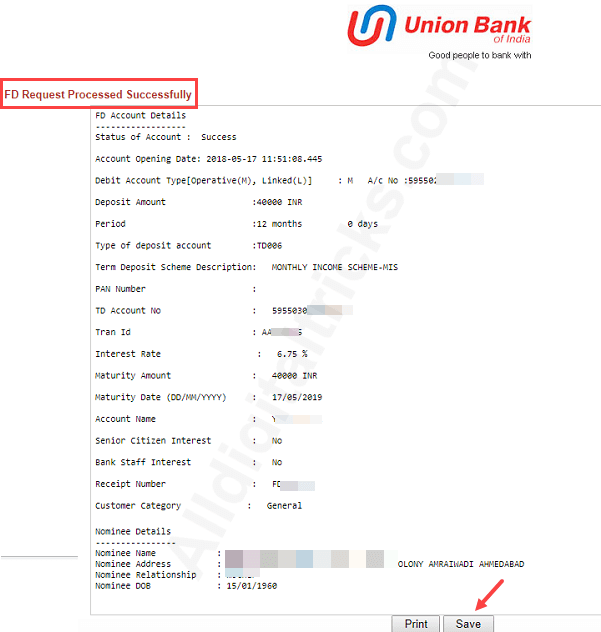 After opening FD online, you can view your Fixed deposit account details after 24 hours through net banking. Wait for 1 day for account updation.
So this is how you can open or apply Fixed Deposit (FD) online in Union Bank of India through net banking, no need to visit bank to apply FD account.