Want to open saving account in ICICI Bank? If yes, then you can now apply online for ICICI Saving account using Aadhaar Card and Pan Card, no need to visit the bank.
ICICI Bank now offers an online account opening facility using Aadhaar card and pan card. This paperless digital account opening process takes just 10 minutes and your account will be opened.
Today, we will tell you step by step – how to open ICICI saving account online. If you have Aadhaar card and Pan card then follow these simple steps and get your ICICI account instantly.
Apply ICICI Insta Saving Account Online
Before you start, Please keep your Aadhaar and PAN number handy to open your account within minutes.
Download and install ICICI mobile Banking app on your phone. Using this app, you can instantly open ICICI account using your smartphone.
Open the application and tap on I want to Open a New Account.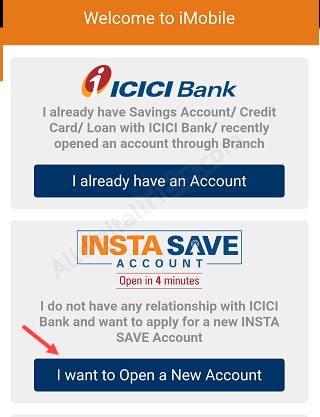 Choose Insta Save Account and tap on Apply Now.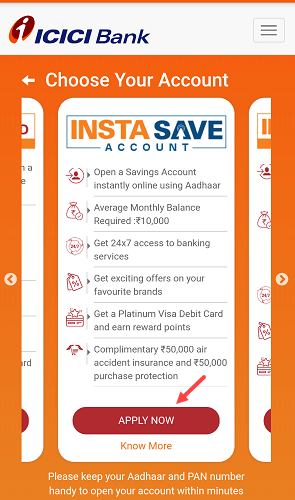 Fill your personal details like age, marital status, occupation, education, income details, and continue.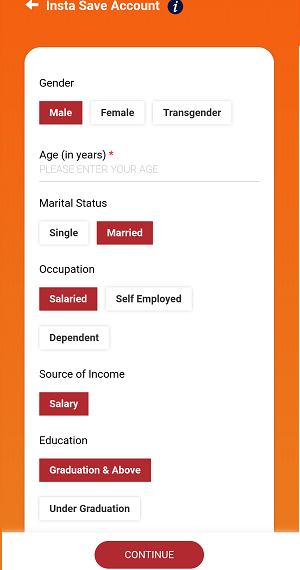 Next screen enter your mobile number, email ID and PAN card number and continue. You will receive OTP on your mobile number, enter this OTP.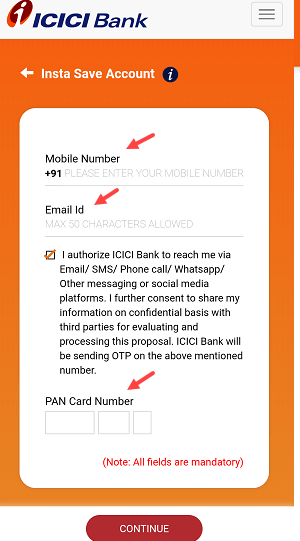 Now type your 12-digits Aadhaar card number and proceed.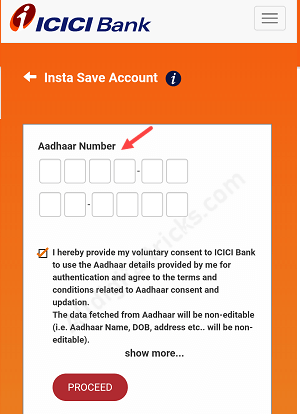 You will receive Aadhaar Verification code via UIDAI on your Aadhaar registered mobile number, enter this OTP and continue.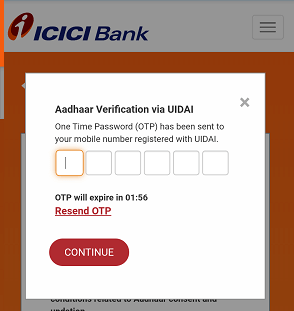 After verifying your Aadhaar card details, complete the remaining account opening process and your account will be opened.
Your Cheque book, Debit card and account opening kit will be delivered to your address via courier.
ICICI Insta Saving Account Features
Monthly Balance Requirement: ₹10,000
Account Benefits
Money multiplier: Earn higher interest by setting a balance limit above which money in the Savings Account will get converted into Fixed Deposit (FD) on request
Complimentary ₹50,000 air accident insurance and ₹50,000 purchase protection
Manage your Savings Account anytime using our Internet Banking and iMobile
Free e-mail statement
Debit Card Benefits
Platinum Visa Debit card with a high daily spending limit of ₹1,00,000 and a withdrawal limit of ₹50,000.
Earn 1 PAYBACK point from ICICI Bank Rewards, on every ₹200 spent using your Platinum Visa Debit Card.
Offers
Handpicked offers across shopping, travel, dining, cards, etc. and more on our iMobile and Internet Banking.
Eligibility
This account is available for Resident Individuals, who are above 18 years and up to 60 years of age.
Charges
Minimum monthly average balance (MAB) : ₹ 10,000
Charges for non-maintenance of minimum monthly average balance : ₹ 100 + 5% of the shortfall in required MAB
Debit Card Charges : ₹ 150 p.a.
Transactions at ICICI Bank ATMs: 5 free, thereafter Rs.20/ transaction.
Transactions at Non ICICI Bank ATMs: 3 free (Metro), 5 free (Non-Metro), thereafter Rs.20/ transaction.
Value Added SMS alert facility: ₹ 15 per quarter
After opening your ICICI account online, you can activate ICICI Mobile banking and net banking online and manage your account online.