Kotak Mahindra Bank customers can now open a Fixed Deposit (FD) Account online through Mobile Banking. Here we will guide you step by step how to open FD account online in Kotak Bank.
Kotak Mahindra Bank gives you the higher interest rate on FD compared than other public sector Banks. You can check latest FD rate of Kotak Bank here, click
If you are Kotak Mahindra Bank customer and want to open FD account then no need to visit Bank, just open Mobile Banking Application and open FD account in 2 minutes.
See step by step guide here:-
Open Kotak Mahindra Bank FD Account Through Mobile Banking
Kotak Bank Mobile Banking facility allows you to access your Bank account on phone. You can access many online services through Mobile Banking. See how you can open FD account online.
1: Open Kotak Mobile Banking App and log in.
2: After login, tap on Banking tab and select Open Fixed Deposit.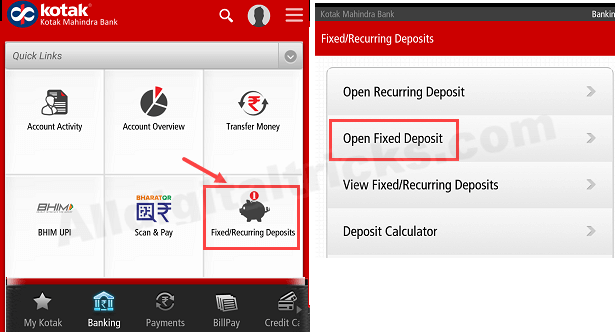 3: Now select your Debit Account, FD type you can select payout monthly, payout quarterly or payout on maturity.  Enter Deposit amount, enter years and months for FD, select FD instruction and select interest and FD amount credit account. Now tap on Open Fixed Deposit Account.
4: Next screen, check your details and confirm.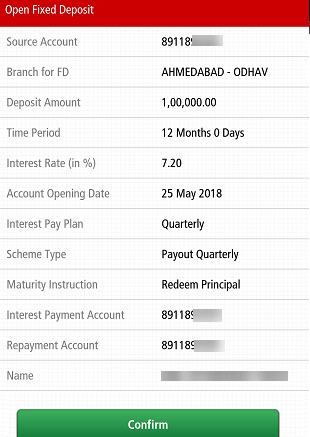 That's all, you have successfully opened Fixed Deposit Account. FD advice will be sent on your registered email address. You can check your FD account by selecting View RD/Fixed Deposit option.
So this is how Kotak Mahindra Bank customers can open Fixed Deposit (FD) online through Mobile Banking instantly without visiting branch.