SBI customers can now earn FD interest rate without invest money on fixed deposit. Yes, SBI Multi Option Deposit Scheme (MOD) works same as saving account but interest rate same as FD.
SBI Multi Option Deposit Scheme (MODS) are Term Deposits linked to the Savings or Current Account (individual). Unlike normal Term Deposits which are fully liquidated anytime you need funds; you can withdraw from a MODS account in multiples of 1000 as per your fund need. The balance amount in your MODS account will continue to earn the Term Deposit rates applicable at time of initial deposit.
See step by step how to open SBI MOD account online through net banking and earn FD interest rate:-
Open SBI MOD Online through net banking
You can open SBI MOD account through net banking and mobile banking. Here we will show you net banking process.
Step#1 Login to SBI Internet Banking: https://retail.onlinesbi.com
Step#2 After login, click on Fixed Deposit tab and then click on e-TDR/e-STDR (FD).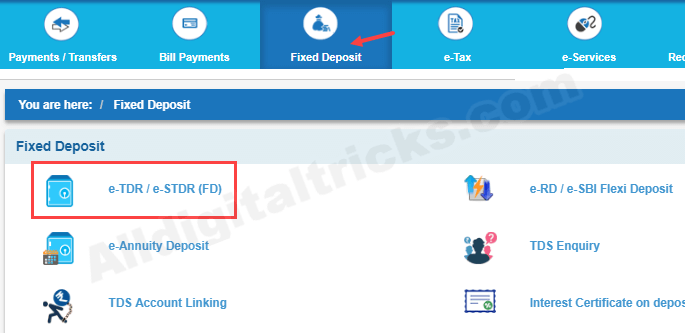 Step#3  Next screen, select e-TDR/e-STDR (MOD) Multi Option Deposit.

Step#4 Now enter MOD details:
Select your Debit account and enter the MOD amount.
If you senior citizen then select Senior citizen option, else leave it.
Now select TDR or STDR. In STDR the interest amount paid on maturity and in TDR the interest amount paid on selected intervals (monthly/quarterly)
Now select tenure for MOD. (maximum 5 yrs)
If you select TDR, you will be paid interest monthly or quarterly, select your option.
Finally, submit your request.
Step#5 Next screen check your details and click on confirm.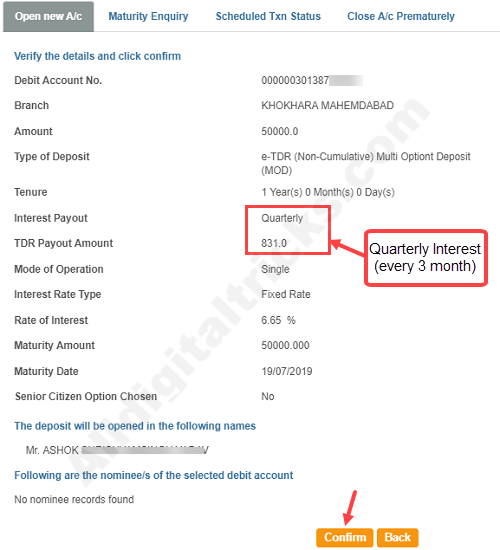 That's it your MOD account opened successfully. You can check your account in Account summary.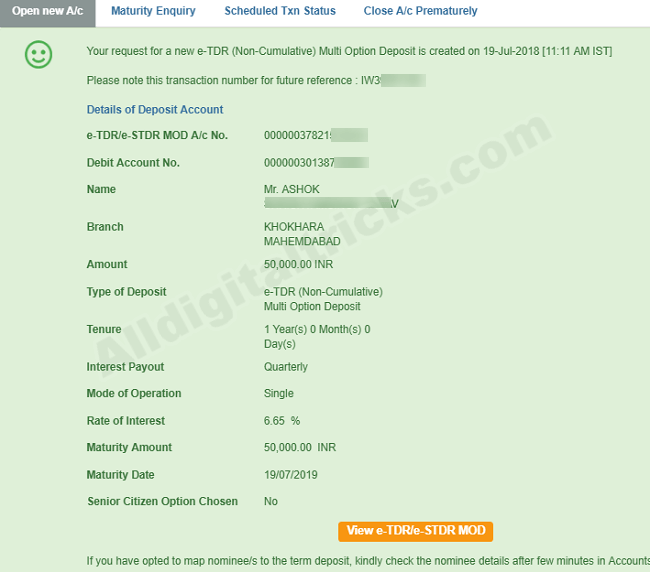 You can withdraw any amount from your MOD account anytime or transfer money online to any bank account.
So this is how SBI customers can open SBI MOD (SBI Multi Option Deposit Scheme) online through net banking.