SBI customers can open RD (Recurring Deposit) account online through net banking and mobile banking. Recurring Deposit is a product to provide a person with an opportunity to build up saving through regular monthly deposits of fixed sum over a period of time.
Recurring Deposit is the best option for a salaried person to save money every month with Interest. It is not possible for everyone to open a fixed deposit account with a higher amount, for them RD is the best saving scheme.
SBI RD Scheme Features:
Monthly deposits of Minimum Rs.100/- and in multiples of Rs 10/- No maximum.
Minimum period 12 months maximum 120 months.
Rate of interest as applicable to Bank's TDR / STDR for the period of the RD.
Loan / Overdraft up to 90% available against the balance in RD account.
TDS is applicable.
Premature withdrawal allowed and for this, rules for TDR/STDR is applicable.
Nomination facility available and it is advised to avail of the facility.
If you are SBI customer and planning to open RD account then no need to visit Bank, you can open a Recurring Deposit account online through net baking and mobile banking. You can also deposit monthly installment online for RD.
1# Open SBI RD Account Through Mobile Banking
SBI Anywhere personal mobile banking application is a digital platform to access banking services online. See how you can open RD account through SBI Anywhere personal:
1: First of all, login to SBI Anywhere personal and tap on "e-Deposits" tab & next screen, select "Open Recurring Deposit" option as you can see below screenshot.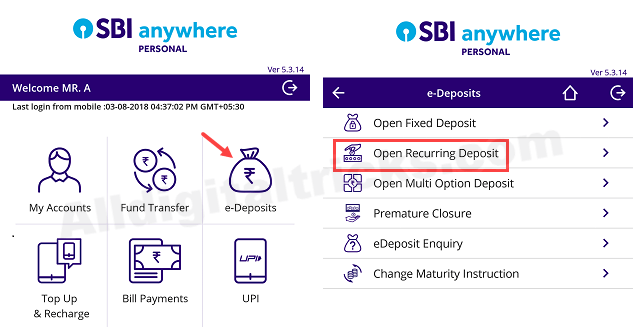 2: On next screen, select your Debit Account number, enter RD amount, select RD tenure and submit. (RD amount minimum Rs.100)
3: Next screen check your RD account details and tap on Confirm to proceed.
Congratulations, your SBI RD account opened successfully.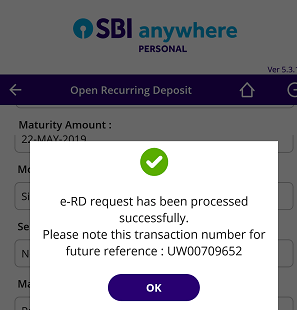 You can check RD account details on Account Summary.
2# Open SBI RD Account through Net Banking
You can also open Recurring Deposit using net banking. If you have sbi net banking facility then see step by step process:
1# Login to SBI net banking account.
2# After login, click on Fixed Deposit, then click and open e-RD/e-SBI Flexi Deposit.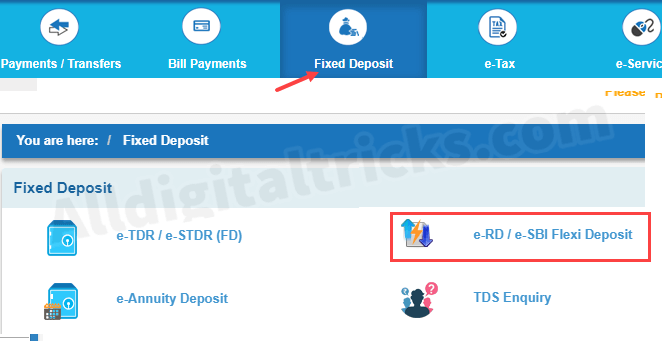 3# Now select "e-RD (Recurring Deposit)" option and proceed.

4: Next screen, enter the RD amount, select tenure of deposit, if you are a senior citizen then select senior citizen option else leave it, in maturity instruction select Payback Principal and Interest. Now click on submit.
5: And finally review your RD details and click on confirm. You can see the applicable interest rate and maturity amount here.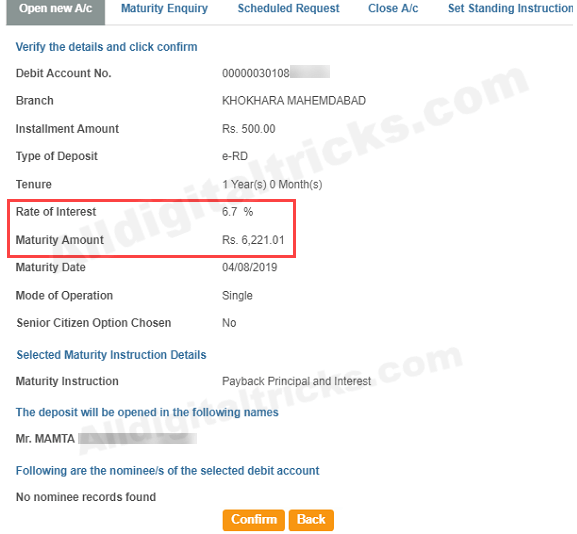 Nice! you have successfully opened an e-RD account in SBI through net banking.
To check your RD account statement and details, use the mobile banking application or net banking.
You can also pay monthly installment online for your SBI RD deposit using SBI Anywhere application and net banking.
So this is how SBI customers can open RD (Recurring Deposit) account online through Mobile banking and net banking without visiting branch.