Now you can apply online for physical Aadhaar card copy and get it to your home address. Yes, through UIDAI official website, now you can order reprint aadhaar card.
Order Aadhaar Reprint is a paid service and if you need reprint of your Aadhaar Letter post – update or due to loss of original Aadhaar Letter, you may order Aadhaar Reprint by paying a nominal fee of Rs. 50/- (inclusive all charges).
Reprinted Aadhaar card will be handed over to India Post within 5 working days for delivery to your registered address via speed post.
Order Reprinted Aadhaar Card Online (Physical Aadhaar card)
To order physical Aadhaar card copy visit UIDAI website: https://uidai.gov.in/
In Aadhaar Services, click on Order Aadhaar Reprint.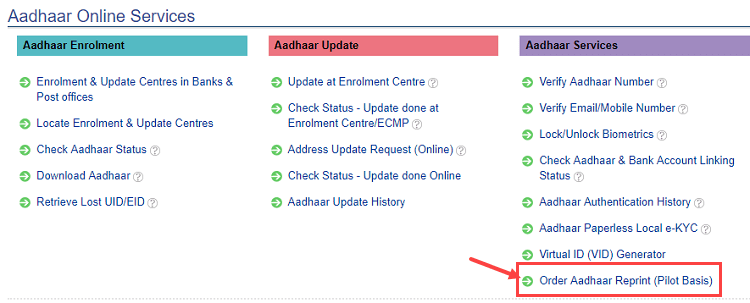 On the next screen, enter your Aadhaar card number or VID, enter the security code. Now you need to enter OTP. If your mobile number is registered with your Aadhaar then directly click on Send OTP and if not registered then check in the box "If you do not have a registered mobile number, please check in the box" and enter any mobile number.
Now enter OTP and click on submit.
Next screen, you need to Pay Rs.50 fee, click on Make Payment.
And finally, select net banking, Debit card, credit card or UPI to pay Rs.50 amount.
After successful payment, your request for reprinted aadhaar card will be submitted.  A 28 digits Service Request Number (SRN) will be generated after raising the request for Order Aadhaar Reprint.
Physical Aadhaar Letter will be delivered using SPEED POST Service of Department of Post (DoP). You will receive a tracking number once reprinted Aadhaar will be despatched.
Within 5 working days from raising the request, your reprinted Aadhaar Letter is handed over to Department of Posts for delivery via Speed Post which takes up to 10 working days.
So this is how you can order Physical reprint Aadhaar card online through UIDAI website. You can request new reprinted Aadhaar copy in case, Aadhaar letter has been lost, misplaced or if you want a new copy.
You can also download e-Aadhaar card in PDF format anytime online.