Axis Bank Credit cardholders can pay their credit card bills online using net banking and mobile banking. If you have Axis bank credit card and want to pay bills online then here we will tell you two online ways to pay your bills.
You can also choose the Auto Debit facility for your axis credit card to pay bill automatically and the money will be debited from your Saving account on the selected date. You can choose the auto-debit facility if you forgot to pay bills sometimes.
Ok, see how to pay Axis Bank Credit card bill online.
Pay Axis Bank Credit Card bills using Mobile banking
Login to Axis Mobile Banking application and click on the Credit Cards section as you can see below image.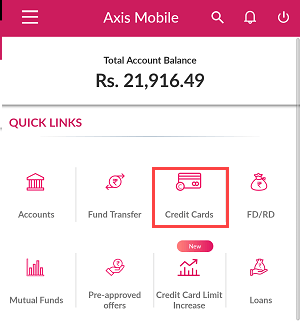 Now click on your credit card and proceed.
Next screen you can see the total payable amount, tap on Pay now.
Now select the total amount due option and select your saving account. (Money will be debited from your saving account so make sure you have enough balance)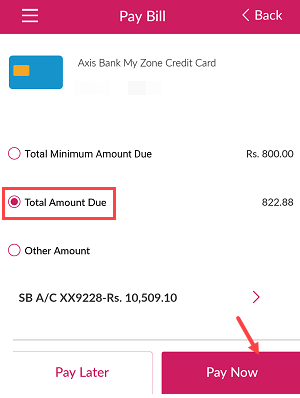 And finally, confirm your payment.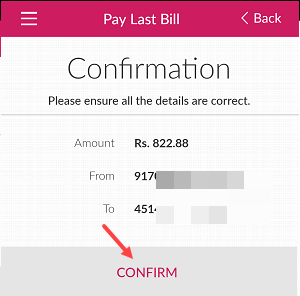 After completing your bill payment, you will receive an SMS from the bank that we have received your payment for the credit card.
Pay Axis Bank Credit Card bill using net banking
If you have an Axis Bank Internet Banking facility then you can also pay your bill online using net banking.
Login to Axis Internet Banking and click on Accounts – My Credit Cards.
Now click on the Pay bill option.

Next screen select your saving account and enter your card total due amount and proceed.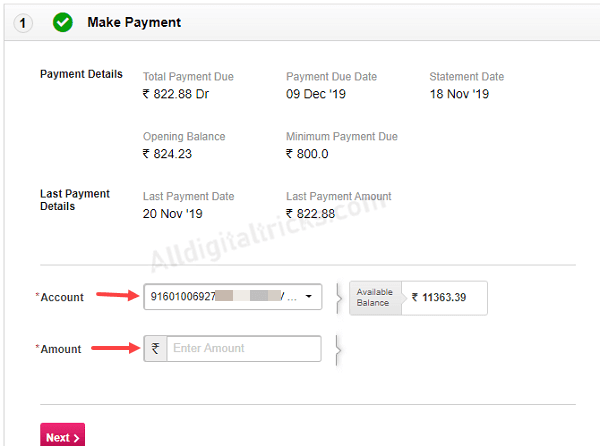 And finally, complete the payment. Billing amount will be Debited from your saving account and you will receive confirmation SMS.
Set Auto Debit Facility To Pay Bill
You can also set auto debit facility for your credit card and link your saving account so the money will be debited from your account automatically on the payment due date.
If you forgot to pay bill every time then choose auto-debit facility and avoid the late fee.
Just log in to mobile banking and open credit cards section and open Total Controls.
Click on Auto Debit Payment and select your Credit card.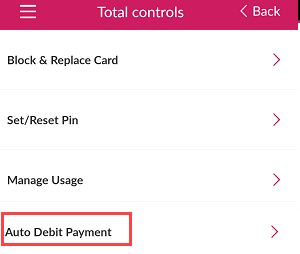 Finally, turn ON Auto Debit and choose your saving account. Select the l amount due in auto debit option and confirm your request.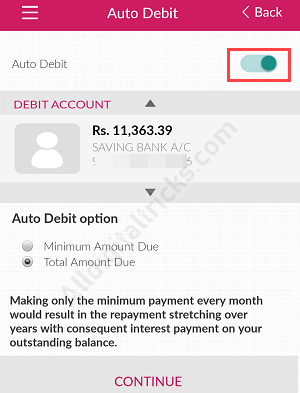 After selecting auto-debit payment facility, you don't need to pay bill manually. The bill amount will be auto-debit from your saving account on the date.