You can pay your ICICI Pay Later account dues amount from your savings account through mobile banking and net banking within 45 days and you don't need to pay any interest. If you are using ICICI Pay Later account and don't know how to pay dues then here we will guide you on this.
In ICICI Pay Later you can pay your dues within 45 days, every 15th of next month. You don't have to pay interest, just total usage amount you have to pay within 45 days. Users can link his/her savings account with Pay Later account for auto-debit. If you set auto-debit, the dues amount will be automatically debited from your savings account.
Here we will show you two ways to pay your ICICI Pay later Account dues.
Pay Dues directly from your saving account
Just log in to ICICI Mobile Banking and open Pay later section where you can see your total payable amount and the due date. Just click on the pay dues button. (You must have to pay your dues before the due date, else you will charge a late fee)
On the next screen enter the total payable amount and submit.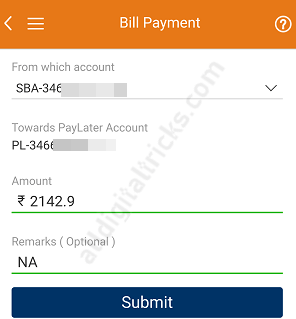 The due amount will be debited from your saving account.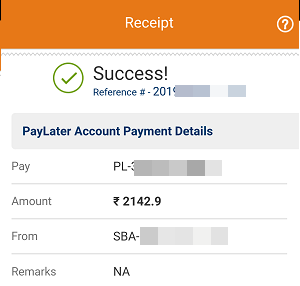 Set Auto-Debit for ICICI Pay later
You can also set Auto-Debit for your Pay later account. The due amount will be auto-debit from your saving account on every 15th of the month.
To set auto-debit facility, just tap on manage auto-debit option in Pay Later section.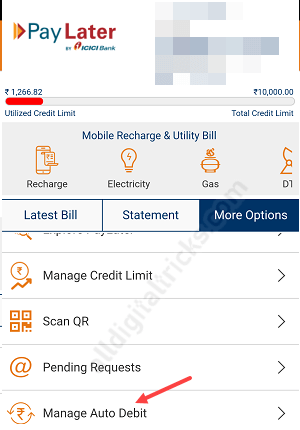 Next screen select your saving account number and submit. Make sure you have enough balance in your saving account.
ICICI Pay later account users can manage account easily through ICICI mobile banking, you can activate ICICI mobile banking online using your Debit card and registered mobile number.
I hope you guys now understand how to pay ICICI Pay later dues online. For more details, you can also read the below articles.