When you transfer money or make a payment using UPI from any popular UPI applications like Google Pay, PhonePe, Paytm etc., every time you need to enter your UPI PIN to authenticate the transaction.
But HDFC Bank now lets you transfer money using UPI without UPI PIN. Yes, HDFC mobile banking's built-in UPI payment feature lets you make payments or send money to any bank account without a UPI PIN.
We have explained this step by step in this guide:
HDFC Account Holders can send money with UPI without UPI PIN – Follow these steps
Step 1: Access Your HDFC Mobile Banking UPI Payment Section
Begin by opening your HDFC mobile banking application and navigate to the "UPI Payment" section. You don't need to rely on external UPI applications; your HDFC mobile banking app offers this feature.
Step 2: Initiate the UPI Account activation Process
On the following screen, tap the "Accept and Continue" button to commence the process.
Step 3: Verify Your Mobile Number
Now, you must choose the SIM card associated with the mobile number registered to your HDFC Bank account. To validate your mobile number, the application will dispatch an SMS from your HDFC-registered mobile number for verification.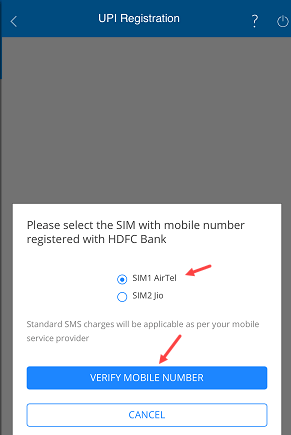 Step 4: Select Your HDFC Bank Account
Having successfully verified your HDFC Bank-registered mobile number, your HDFC bank account will be displayed on the subsequent screen. Here, select your desired bank account and click on "Continue."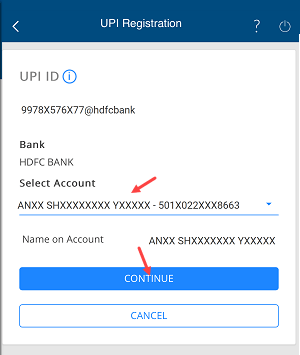 Step 5: Congratulations, Your UPI Account is Created
You've accomplished the setup process! Your UPI account has been successfully created within your HDFC mobile banking application. From now on, you can initiate money transfers without the need for a UPI PIN, all from your UPI account integrated into HDFC mobile banking.
Step 6: Send Money Without UPI PIN
You're now prepared to transfer funds from your HDFC Bank account to any other bank account using UPI without the necessity of a UPI PIN. Simply tap on the "Send Money" option.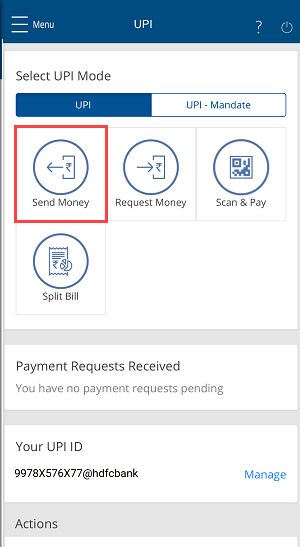 Step 7: Select UPI ID Or Mobile Number Payment method
Next screen you need to select "Contact or UPI ID" for UPI money transfer. If you have the bank account number and IFSC code then choose the "Bank Accounts" option.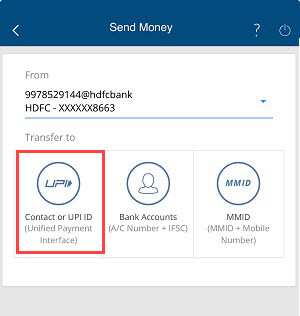 Step 8: Input Beneficiary UPI ID/Mobile Number
On the next screen, enter the UPI ID of the recipient (beneficiary) or their mobile number. Additionally, specify the amount you wish to transfer, include any remarks if needed, and then click on the "Continue" button.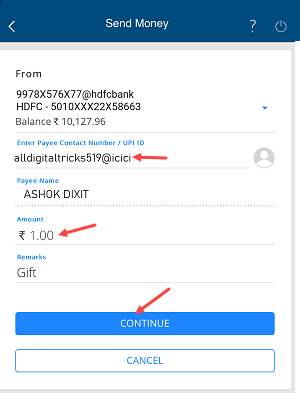 Step 9: Confirm Your Transaction
To finalize the transaction, proceed by clicking on the "Pay" button on the subsequent screen.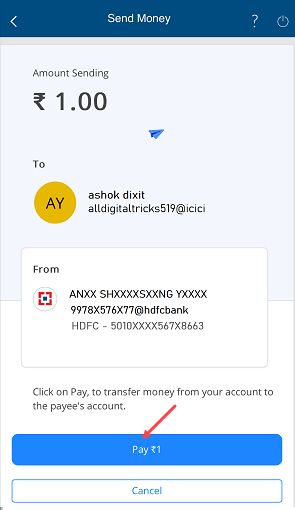 Money Successfully Sent to the beneficiary Bank account
Done! You have successfully transferred the amount to the receiver's bank account without UPI PIN.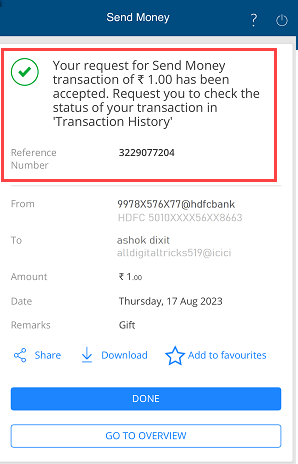 Additional notes:
It is important to be careful when sending money without a UPI PIN. Make sure that you are sending the money to the correct person.
You can also make payment by scanning QR code without UPI PIN
If you are sending money to an HDFC bank account user then you can enter his/her mobile number, no need to ask UPI ID.