Don't know how to Pay monthly SIP on Paytm Money? If yes, then here we will tell you how to Pay your monthly SIP on Paytm money. If you have purchased SIP plan on Paytm money and as a beginner, you don't know  how to pay your SIP then here is the step by step guide:
How To Pay Monthly SIP on Paytm Money
Step 1: First you need to add your bank account in Paytm Money. After adding your bank account, you can pay your SIP using a linked bank account by login to net banking or UPI.
To add a Bank account, open the Profile section, and tap on Payments (Bank Account).
Next screen, tap on Add new bank account and enter your bank account number and IFSC code to add your bank account. Once, your bank account successfully added, you can Pay you SIP using net banking and UPI.
Step 2: After adding a bank account, now you can Pay your SIP using this bank account by login to net banking.
Your SIP payment option will be enabled one day before the actual SIP date. Once the payment option is available, you can pay your SIP through net banking and UPI. You can see the Pay Now option on the home screen in Manage SIP.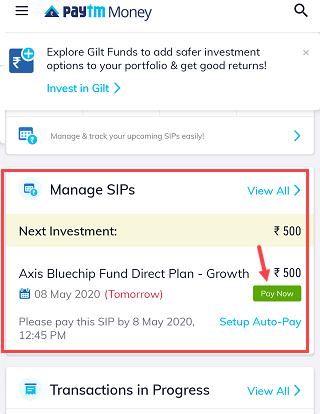 To Pay your SIP, tap on Pay Now.
Select UPI or net banking option and pay your SIP.
Done! you have successfully completed your SIP payment. You can see a successful screen.
FAQs
Q.1: Which payment methods available on Paytm money to Pay SIP?
Ans: You can pay your SIP via net banking and UPI or you can also set AutoPay of your verified account.
Q.2: Payment failed but money is deducted from my bank account?
Ans: If your payment failed and money debited from your bank account then it will be reversed to your bank account within 24-48 hours.