PayTM wallet is good for send/receive small amount in daily life. You can share wallet money with your relatives, friends and beloved. If someone needs urgent money then your PayTM wallet is always ready for them.
But, hey now you can send money from your paytm wallet in new way. You just loved it!
Yes, PayTM has added a new feature to the PayTM wallet named – PayTM Lifafa. This Lifafa is hindi name of Post Card.
What is PayTM Lifafa?
Lifafa – This is a new service introduced by PayTM through which you can send money as a Lifafa (post card) to relatives and friends who are using PayTM.
Suppose it's your friend's birthday, to wish him happy birthday you can send money in beautiful lifafa with message on PayTM wallet.
Your friend will receive this Lifafa immediately and after opening it, the money will be credited in his/her paytm wallet.
The main purpose of starting Lifafa is that you can send money to your relatives or friends in a special occasions like festivals, birthday wishes or else.
So let's see how send PayTM Lifafa?
How to send PayTM Lifafa?
To send Lifafa (post card) first you need to update your PayTM application from the latest version.
1 Open PayTM Wallet, you can see different options at the top, here you have to tap on Lifafa.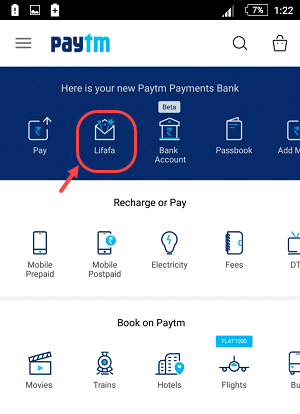 2 Now tap on Send a Lifafa in the next screen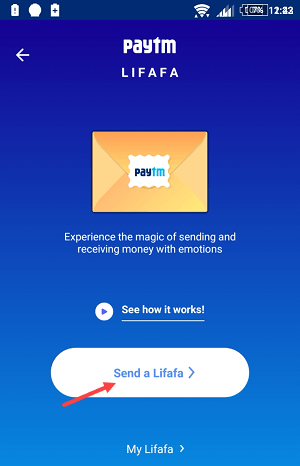 3 Now you have to type the PayTM Mobile number of the person whom you sending money.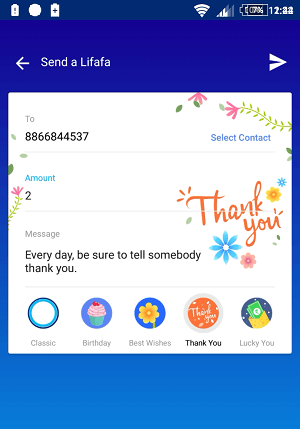 Now enter Amount.
Now type your greeting message like birthday wish, festivals message, anniversary etc.
You can also choose different lifafa theme for different occasions like birthday, thank you, rakhshabandhan etc.
Now tap on Send button.
Done! you have successfully sent Lifafa to your friend.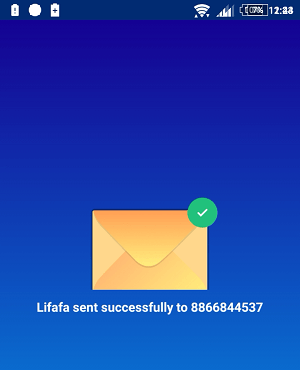 Your friend will receive this Lifafa immediately and when he open this Lifafa, the amount will be added in his/her wallet.
How do PayTM Lifafa Money Receive?
If someone has sent money through PayTM Lifafa, you have to open your PayTM Wallet in order to receive that money.
After opening PayTM, you have to click Lifafa on the home screen.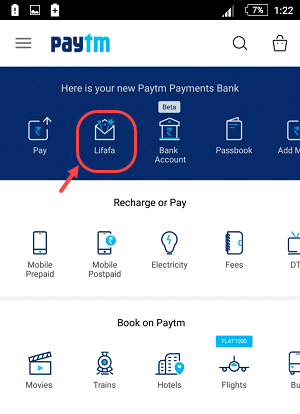 In the next screen you can see the Notification of New received Lifafa. Just tap to open it.
In the next screen, you have to click on the new received Lifafa. Now the money which you received will be added to your payTM wallet.
So in this way you can use the PayTM Lifafa (Post Card) service. If you have to send money to someone on a particular occasion, then you just loved this new feature.