This Diwali, send multiple Paytm Lifafa to your loved ones and relatives. Paytm Lifafa is a new way to send money with greetings and beautiful stickers.
You can send single Lifafa to any other Paytm user or send lucky Lifafa to multiple Paytm users. The amount will be credited instantly to receiver Paytm wallet when he/she claim your Lifafa.
See how to send Multiple Paytm Lifafa to other Paytm users.
How To Send Paytm Multiple Lifafa
(1) Open Paytm Application and tap on Lifafa.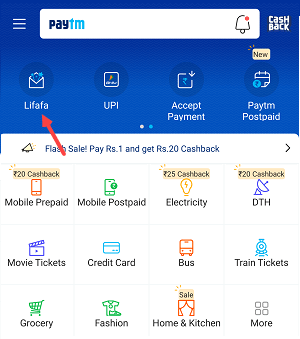 (2) On next screen, tap on Send a Lucky Lifafa.
(3) Now enter the number of people (Only these number of people will able to claim lucky lifafa), enter total amount (this amount will be randomly distributed between people). Type your greeting message with stickers and tap on Create Lucky Lifafa.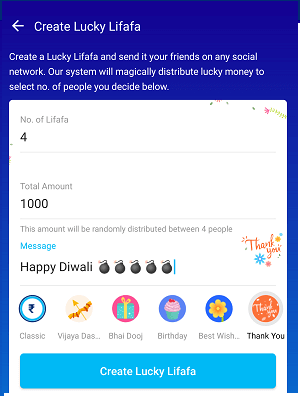 (4) Done! your Lucky Lifafa has been created. And now you need to share this lucky lifafa with your friends using WhatsApp and Facebook. Tap on WhatsApp and facebook icon to send Lifafa link.
As you can see we have sent Lucky Lifafa via WhatsApp.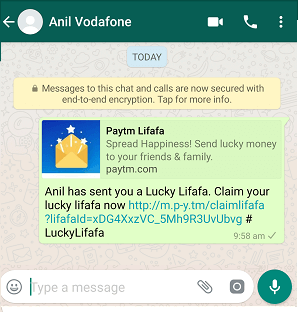 How To claim Lucky Lifafa
After sharing lucky Lifafa, the receiver will receive a message on his/her facebook or WhatsApp message box.
To claim Money, he/she will open the shared link and the amount will be credited to his/her Paytm wallet instantly.
The number of people you have entered in Lucky Lifafa will be able to claim the money. The amount will be randomly distributed between people. For example, if you send 1000 to 4 people, each will get 250 rupees.
If the amount not claimed within 2 days, it will be credit back to your Paytm wallet, so no need to worry if amount not claimed by the receiver.
You can check the status of your sent Lifafa in Lifafa section.
KYC Require To Claim Money
Unfortunately, if receiver's KYC not completed for Paytm account then he/she will not able to claim your Lifafa money. Only Paytm KYC complaint users will be able to receive money.
So this is how you can send Paytm Lucky Lifafa to multiple people. You can also send single Lifafa to a single user and he will receive Lifafa amount directly when he/she open Lifafa section.