Did you open your Saving Account at PayTM Payments Bank? If not, today I will show you the Demo of PayTM Payments bank saving account.
Today I am going to tell you what you will get in paytm saving account, what they offer currently. Is it perfect for you or not?
Let me tell you i just opened my account in the PayTM payments bank, so here I'm sharing all details about this digital saving account.
PayTM Saving Account – What will you Get?
First of all, let me tell you that opening an account in Paytm payments bank is very easy and you can open your account at home.
You do not have to do anything special, you just have to complete the Aadhar card e-KYC and have to give PAN CARD details. Agent will do all this work at your home and your account will be opened in 1 day.
Well, let's see what you get in this bank account after opening it.
1 # Mobile Number is your Account Number
Your PayTM Registered Mobile Number will be your account number. You will easily be able to remember your account number.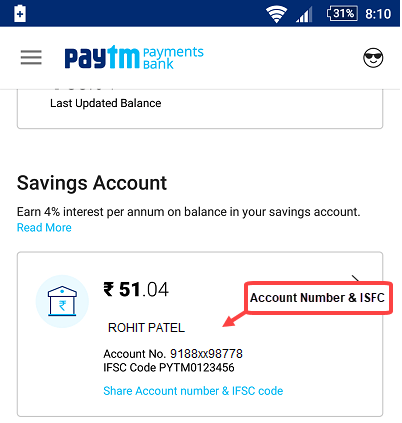 You can use this account number to receive money online or offline. Also people can add you as beneficiary for online money transfer.
2 # Virtual Debit Card for Online payment
People nowadays use Debit Card to make online payments. At Shopping website and other online services, people make online payment using debit card or credit card.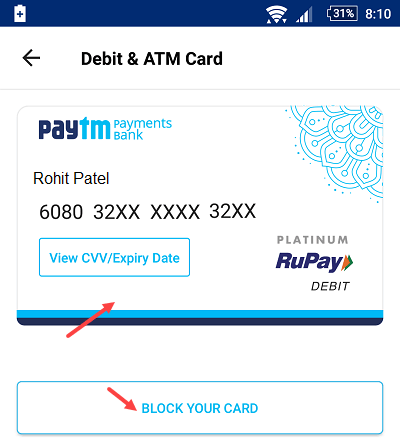 In the PayTM payments bank, you will get Virtual Debit Card. This card is not a physical card but rather a digital card. You can use this card online only.
You can see your Card number, expiry date and CVV number on card. Using these details you can make online payment.
You can also block / unblock your Debit Card at any time.
3 # IFSC Code
If someone wants to send money to your paytm savings account, you can give him your account number and IFSC code to receive money online.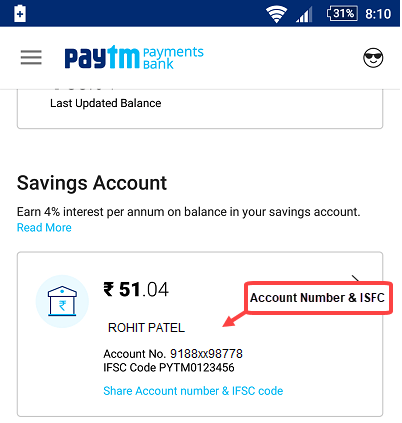 IFSC code is Indian Financial System code which is used to transfer money online.
4 # Online Passbook Facility
You will get digital passbook to view your account transaction history. You can see passbook option in Paytm application.
In passbook you can see total balance and credit / debit transactions details.
5 # Facility of Fix Deposit
As soon as your balance reaches 1 lac in your payTM savings account, you start getting interest of Fix deposit. When balance goes below 1 lac, normal interest rate will apply.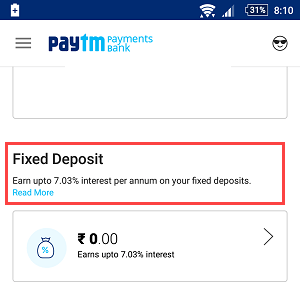 6 # Banking on PayTM Application
Your PayTM Application is your bank. No branch! Just open your PayTM and tap on Bank. You can see all account related details here.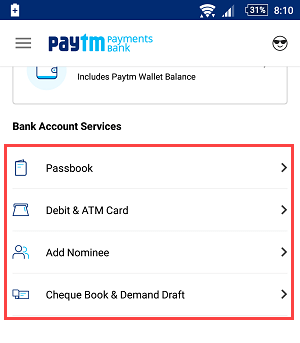 7 # Online Money transfer (IMPS)
You can transfer money to any bank account from your paytm saving account using IMPS. The money will be credited to beneficiary account instantly.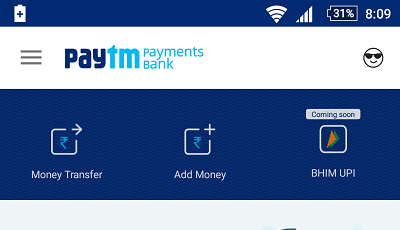 The best part is that you do not have to pay any charge to transfer money. Other banks charged you but here is free.
8 # Add Money to Saving Account
To add money to your PayTM bank account from other bank account, just add paytm account as beneficiary using account number & IFSC code. After adding beneficiary you can transfer money to paytm account.
9 # 4% interest
Like other banks, 4% interest is also given to you in the PayTM payments bank. This interest is credited to your account every month.
10 # Cheque Book & Demand Draft Coming Soon
Soon you will also get the facility like Cheque Book and Demand Draft. Currently this feature available, but soon the paytm will start this facility.
So this is PayTM Saving Account which is completely a digital saving account. Bank Account on your smartphone.