If you are Kotak Mahindra Bank customer and lost your Debit card or stolen then you should immediately block your debit card permanently & request for a replacement card.
Kotak Mahindra Bank customers can block &/OR replace debit card online by following these 3 methods:
Block Kotak Debit Card Permanent and Replace your Debit card
Login to Kotak Mobile Banking App.
After login, select Service request and open Debit Card Widget.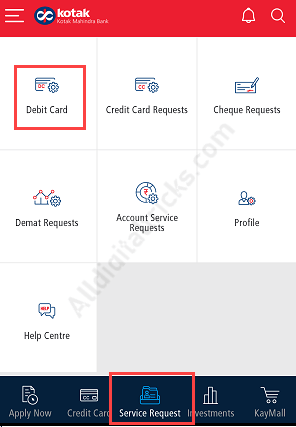 Next screen, choose Report loss of Card.
And finally, select status stolen/lost and if you want to replace of your card then select Replacement required and submit your request.
Done! your Kotak Debit card will be permanently blocked. If you selected the Replacement option, then a new Debit card will be issued for you.
Block Permanent Kotak Debit Card using Net Banking
You can also report loss of card and block your Kotak Debit card using net banking.
Login to Kotak Internet Banking.
Now click on Debit Card section and clock on Deactivate/activate Card.
Now select your Debit card and choose "Report Loss of card/Permanent Block" option and submit.
Use Permanent Block in case you have lost card or do not want to use the card anymore.
After blocking your current Debit card, you can apply for a new Debit card online and get a new Debit card.
Block Kotak Debit Card other Methods
You can also visit Kotak Service Request portal and block your Debit card without login to net banking and mobile banking: https://www.kotak.com/report-lost-card.html
Kotak Bank customers can also call Phone Banking number  and block Debit card instantly: 1860-266-2666
Do you know, Kotak Bank customers can also activate/deactivate Debit card temporary without blocking Debit card permanent. You can deactivate your Debit card temporarily in cases where there is a high chance of receiving your card back to you and activate it again.
So this is how to Block Kotak Debit Card permanent and report loss of card.