Register online for PNB monthly e-statement and get your account statement directly on your email address. Punjab National Bank provides you monthly e-statement facility to check account activity.
Through PNB Net Banking you can register or update your email address and then subscribe for monthly e-statement services free of cost.
You don't need to visit the bank to update your passbook, you will receive account e-statement on your registered email address every month on the selected date.
See how to register for PNB monthly e-statement free service.
PNB Monthly e-Statement registration
First, you need to register or update your email address with your bank account. You can register or update email address through PNB net banking.
After email registration, now you can subscribe for monthly e-statement facility. All Current, Savings, OD & CC account customers can register for email statements
Step 1: Login to PNB net banking account: https://netbanking.netpnb.com
Select Retail Net Banking and enter User ID & Login password.

Step 2: After login, click on Other Services – Service Request and Tracking – Service Request.
Step 3: Now select "New Request" in option and press Ok.

Step 4: In the request list, you can see "Email Statement Registration" just click on it.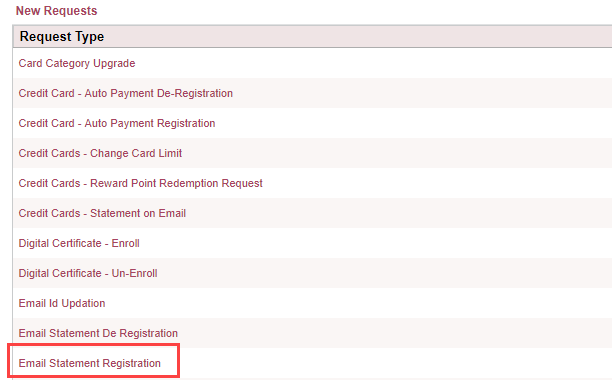 Step 5: On next screen select your Account number and hit continue button.

Step 6: Finally submit your request.
Done! you are successfully registered for PNB monthly e-statement. You will receive an account statement every month and check your account activity.
Register Through SMS
If you don't have net banking facility then use SMS facility to register for e-statement.
From your registered mobile number send an SMS in below format:
Send "ESTMT<space>last 4 digits of a/c no<space>Email ID" & send to 9264092640 or 5607040
So this is how PNB customers can register for monthly e-statement facility and receive account statement on his/her email address.
PNB customers can also install PNB mPassbook application on their phone to view account activity and also check account transactions activity through Internet Banking Mobile Banking