Do you want to withdraw some amount from your Kotak Bank fixed deposit account? Yes, Kotak Bank customers can withdraw money from FD account online. Premature withdrawal facility available through net banking.
Suppose you have 1 lac rupees FD in Kotak Bank and you want to withdraw 20,000 from your FD account then yes you can withdraw this amount online using net banking. The amount will be credited to your bank account instantly.
See how to you can premature withdraw money from your FD account.
Partially Break Kotak FD account
If you need some money in urgent then no need to close your FD account, you can partially withdraw money from your FD account, remaining FD will continue to earn the applicable rate of interest.
Login to Kotak Internet Banking: https://www.kotak.com/
Now click on Banking and choose Deposits option. Now click on "Premature withdrawal of deposit"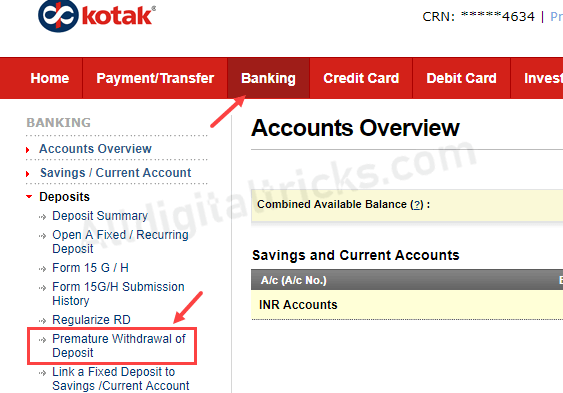 And next screen, select your Deposit Account, enter the amount which you want to withdraw and select your saving account where amount will be credited. Now click on submit.
The Fixed Deposit amount that you withdraw will be credited in the selected account immediately including the interest amount less applicable TDS.
Please note:
Request for Premature Withdrawal of Fixed Deposit can be placed for all Fixed Deposits booked singly in the name of the person requesting the closure. This option is not available for current account customers.
Post such withdrawal, if the Fixed Deposit amount falls below the minimum deposit amount then the entire Fixed Deposit amount will be transferred to your Savings/Current Account, else the outstanding amount available in the Fixed Deposit will continue to earn the applicable rate of interest.
Hope you now understand how to premature withdraw money from Kotak Bank FD account online without closing FD.