The Securities and Exchange Board of India (SEBI) has made it mandatory for all demat account holders to add a nominee to their account. The deadline for this is December 31, 2023. If you do not add a nominee by this date, your demat account will be frozen for debits.
Nominating someone to your demat account is an important step in securing your financial future and ensuring that your assets are transferred smoothly to your loved ones in the event of your death. Without a nominee, the process of transferring your demat holdings can be complex and time-consuming, and your heirs may face delays and difficulties in accessing their inheritance.
Adding a nominee to your Upstox demat account is a simple process that can be done online or offline. You can nominate any individual who is above the age of 18 and has a valid PAN card. You can also nominate multiple nominees, and specify the percentage of your holdings that you want each nominee to receive.
Just follow this step-by-step process:
Add a Nominee To Your Upstox Demat Account Online
(1) Log in to the Upstox mobile application.
(2) Go to the "Profile" section by tapping on the Profile icon.
(3) Now go to the "Profile" and open "My Account" section as you can see in the below screenshot.
(4) Now you need to open the "Profile" section.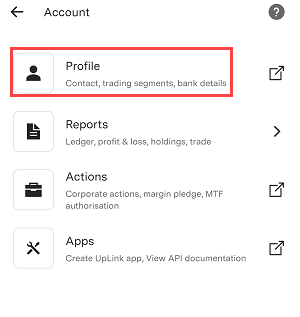 (5) Here you will see "My Nominee(s)", open it.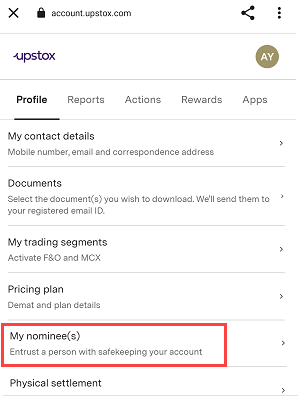 (6) Tap on "Add Nominee" button.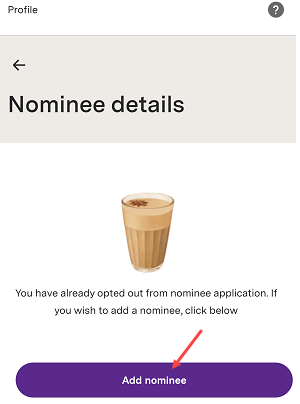 (7) Enter the nominee's details, such as name, date of birth, and choose your relationship with the nominee. If address is same then select Nominee address is same as my address and continue.
(8) Specify the percentage of your holdings that you want the nominee to receive. You can give 100% holdings or less. You can also add another nominee if you give the first nominee less holdings.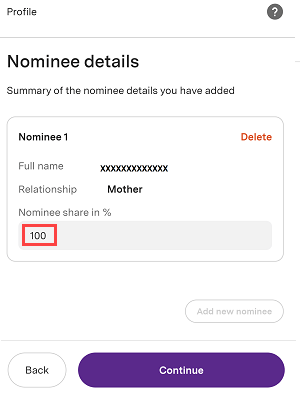 (9) Enter OTP to confirm your request.
You have successfully added a nominee to your Upstox demat account. You need to wait at least 2-3 working days to fulfill your request.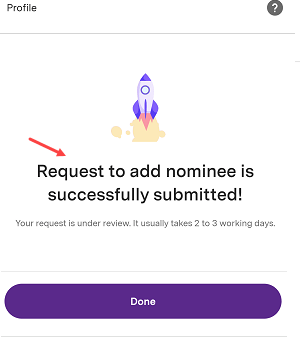 Once you have submitted the nomination form, it will be processed by your depository participant (DP). You will receive a confirmation email or SMS once the nomination is successful.
Here are the steps to check your nominee details in the Upstox mobile app:
Open the Upstox mobile app and log in with your credentials.
Tap on the Profile icon at the top left corner of the screen to open the menu.
Tap on "Profile – My Account".
Open Profile section
Tap on "My Nominee(s)".
You will see a list of all the nominees that you have added to your Upstox account. You can view the nominee's details, such as their name, relationship to you, and share percentage, by tapping on the nominee's name.
It is important to note that you can add up to three nominees to your Upstox account. You can also specify the share percentage that you want to allocate to each nominee. The total share percentage allocated to all nominees should be equal to 100%.