It is mandatory to keep your KYC updated to access your PNB bank account without any deactivation. If your KYC is pending then your bank will temporarily deactivate your account and you can not withdraw any amount from your account.
If you are a Punjab National Bank customer and don't know your KYC is updated or not then you can check your KYC status online and check whether your PNB account is KYC compliant or not.
KYC full form is Know Your Customer. When you open an account with any bank, you need to submit your KYC documents like your Aadhaar card, Pan card, and photograph. You need to submit your KYC details periodically.
Check the KYC Status of your PNB Bank Account
(1) You can check your Punjab National bank account KYC status online thru internet banking. All you need to do is, login to your PNB net banking account (https://netbanking.netpnb.com/)
After login, you need to click on the "

Personal Settings — Check KYC Status

" as shown below image.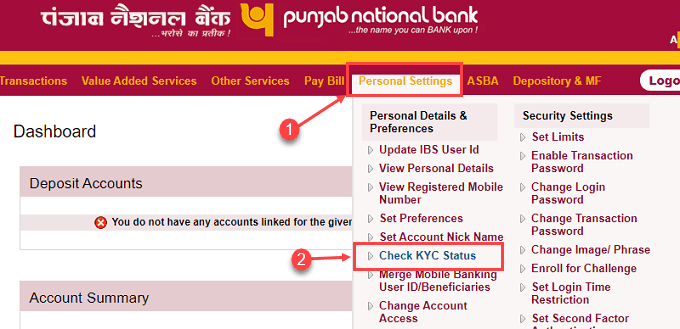 (2) on the next page, you can see your current KYC status, complied date, and CKYC number. If your KYC status is showing "KYC Complied" then you don't need to submit your KYC details and your account is KYC compliant. However, if your KYC is not completed then you need to visit your branch and submit the KYC form with the necessary documents.

So this is the way, Punjab National bank customers can check whether their bank account KYC is completed or pending. If you have just opened your bank account and want to check your KYC status then you can follow the same process and check your status.