Check PPO number online Railway pensioners | Railway Pensioners download PPO online in PDF format
Railway pensioners can now check and download their PPO online. Yes, the railway department has launched ARPAN pension portal for pensioners where you can register and access pension-related services online.
PPO full form is Pension Payment Order Number and each pensioner irrespective of whether they are from any organization will be assigned a PPO Number. This document contains all your pension-related information and you need to present this number whenever you face any issue regarding your pension.
Recently the railway department is issued a new PPO number for all railway pension holders, see how you can check and download your PPO number online.
Railway Pensioners: Check & Download PPO Online
If you lost your PPO copy or want a new PPO copy then follow the below process and get your PPO copy online.
First of all, Railway pensioners need to register on ARPAN pension portal. After registering on ARPAN, you can view and download your PPO online anytime and also check all your pension-related information.
Here is step by step guide how you can register for ARPAN, read: ARPAN railway pension registration process
After registering on ARPAN railway pension portal, log in to your account. Enter User ID ( Your new PPO number is your username) and login password.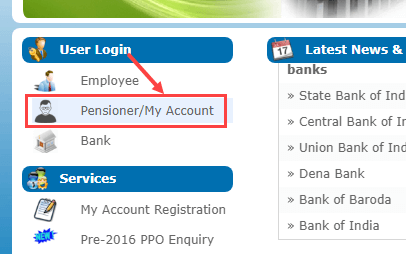 After login, you can see Download PPO option, click on this link. Now click on view.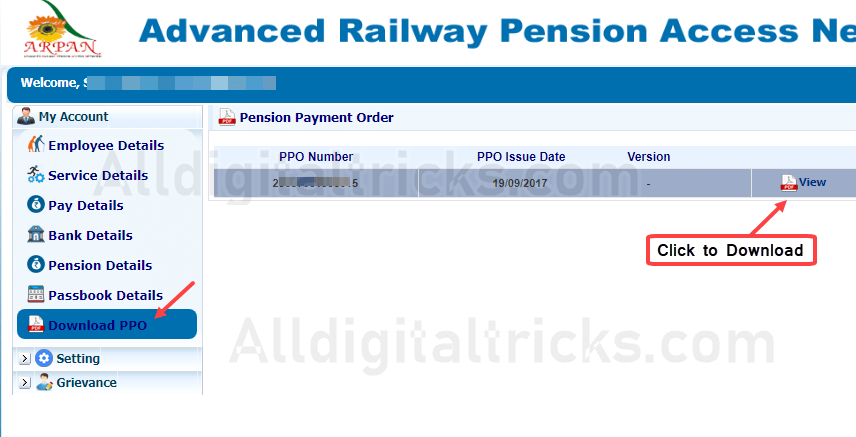 Now your PPO will be opened in PDF format, just click on the Download button and save your PPO in local storage. You can take a print out after downloading the Pension payment order in PDF format.
So this is how Railway pensioners can check and download PPO online anytime, anywhere. Please note, ARPAN pension portal developed only for railway pensioners.
FAQ
Q.1: How do I get Railway PPO details?
Ans: Register yourself on the ARPAN pension portal and view details of your PPO. You can also download PPO in PDF format.
Q.2: How do I find my Railway PPO number for my pension?
Ans: You can find your PPO number in PPO physical copy. You can also download your PPO through ARPAN website.