Gpay (Google Pay) previously known as Tez is a UPI based payment application developed by Google.
With Gpay, you can transfer and receive money to your Bank account using UPI, recharge your mobile and DTH, pay bills online and make online payment where Gpay available.
To use Gpay first you need to link your Bank account with Gpay. After linking your Bank account, you can use your Bank account money for fund transfer and other services.
You can recharge your Mobile phone easily on Gpay and win attractive rewards (Scratch card) which directly transferred to your Bank account.
Benefits of Recharge on Gpay
No need to login net banking or enter Debit card details
Recharge instantly by entering UPI PIN
win scratch cards and redeem instantly
How To Recharge Mobile on Gpay
To recharge your mobile phone on Gpay, add your Bank account first and set UPI PIN using the Debit card. Read: How to Add Banka account in Gpay
Now you can recharge your mobile phone using Gpay and the money will be debited from your Bank account directly, you don't need to enter net banking details or card details.
To recharge your mobile number on Gpay:
1- Tap on New and next screen select Mobile Recharge option.
2- Now enter your Mobile number and proceed. Next screen you can see recharge plans, select your plan or enter the amount.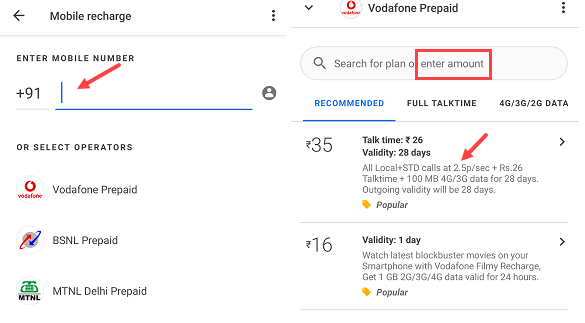 3- Next screen, tap on Proceed to Pay.
4- And finally enter your UPI PIN to authenticate your transaction.
Done! your mobile number recharged successfully. The amount will be debited from your Bank account.
You can also win scratch cards and redeem amount directly on your bank account. Check Rewards section to redeem scratch card amount.
The same way you can also recharge your DTH on Gpay.
So this is how Gpay users can recharge mobile number in a fast and convenient way.