So you mistakenly deleted your contacts from your Android Phone? Don't worry, you can restore all deleted contacts on your Android phone very easily. Here we will guide you step by step, how to recover all deleted contacts on your Android device.
When you use any Android Phone, you need to add your Google account (Gmail account) to access the play store and other Google services. I assume you have a valid google account which is linked with your Android Phone already.
Ok then follow these simple steps, and restore your deleted contact numbers on your Android phone instantly.
Restore Deleted Contacts on Android Phone
Open the web browser on your Android phone and visit the Google contact page: https://contacts.google.com/
Now click on the Settings button and click on Undo changes. (as you can see below screenshot).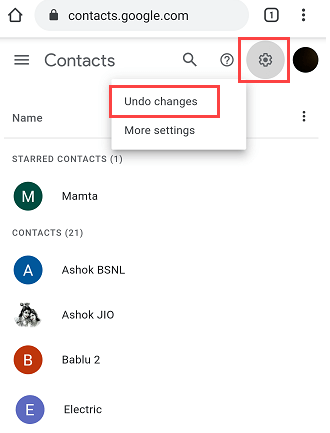 Now select undo changes from time, you can recover the last 30 days all deleted contacts. If you wish to restore all removed contacts from the one week ago, select a 1-week ago and click on undo.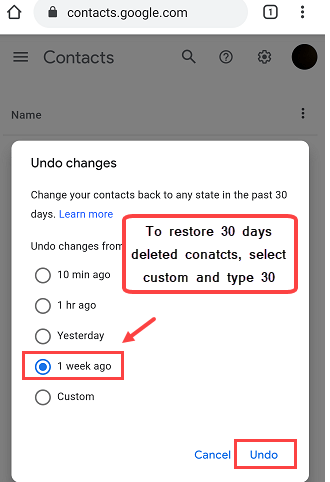 That's it, all deleted contacts which removed 1 week ago will be restored and you can check the contact list. You can also choose a custom date (within 30 days) and recover contacts.
FAQs
Q.1: I accidentally deleted my contacts on my phone, how to restore it?
Ans: Don't worry, if your Google account is linked with your phone and you can login to your account then follow the above steps and restore all your contact numbers deleted within the last 10 days.
Q.2: Why I am unable to view my contacts on the Google contacts page?
Ans: If you have not selected Google account for contact storage then, it will not be saved on your Google account so you can't view and restore from Google contacts page.
Q.3: How to save my all contacts in Google contacts?
Ans: Just select Google account for contact storage. Open contact setting and here you can set your Google account for storage.