Do you want to register or change the email address for your Kotak Mahindra Bank account? If yes, then no need to visit Bank. You can register/change the email address in Kotak Bank online.
By registering email ID with your Kotak Bank account, you can subscribe for e-statement facility and able to ga et monthly statement on your email address. You will also receive transaction related alerts and OTP after registering an email address with your Kotak account.
If you have a valid email address then follow below two methods and register or change email ID in your Kotak Bank account online.
Register/Change Email Address Online in Kotak Bank Account
If your email ID already registered with your Kotak Bank account and want to change/update it or want to register your email ID then follow these two online methods:
Register/Change Kotak Email Address Online using Mobile Banking
Login to Kotak Mobile Banking Application.
After login tap and open Service Request – Profile widget as you can see below screenshot.
Next screen tap on Email ID update.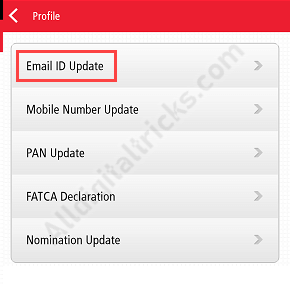 Now enter your new Email ID and tap on Update. Again confirm your request.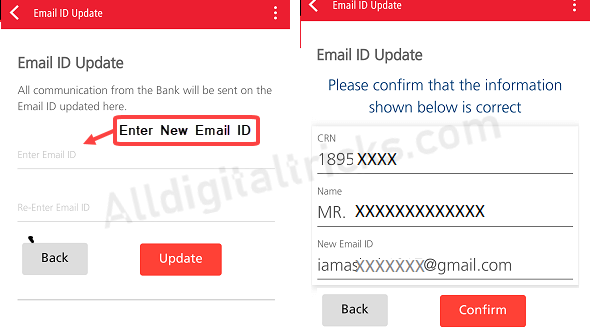 Next screen, choose Debit card OR OTP option to authenticate your request.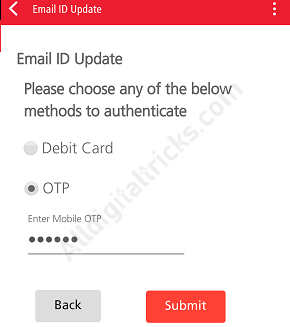 Done! you have successfully changed/registered email ID with your Kotak Bank account.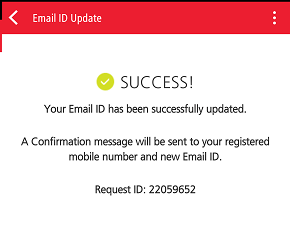 Register/Change Email ID using net banking in Kotak Bank
Kotak Mahindra Bank customers can also use Kotak Internet Banking to register or update email ID with the bank account.
Open Kotak Internet Banking login page and enter your CRN Number or customer ID and password: https://www.kotak.com/
Now click on Profile/Update contact Details.

Next screen in contact details, click on Edit in email id option.
Now enter your new email address and authenticate using OTP or Debit card.
So this is how you can change/register email ID online in Kotak Mahindra Bank.