You can register and create your account in IRCTC to book your train ticket online. IRCTC (Indian Railway catering and tourism corporation) is the largest e-commerce website allows you to book reservation ticket online.
Now you don't need to contact any agent for train ticket booking, you can create your own account on IRCTC and book your tickets online anytime. IRCTC also launched the mobile application to buy a reserved ticket on your phone.
IRCTC Account Benefits:
Book Reservation ticket easily online
Print your ticket or just save on your phone
Cancel your e-ticket easily
Book tatkal tickets
Save your precious time
So how to create your account on IRCTC website? How to register on IRCTC? – Follow the step by step guide here:
How to Register & Create IRCTC Account
Step 1: Visit IRCTC official website: https://www.irctc.co.in/nget/

Step 2: Next screen, enter desired User Name, login password, security questions and answer and select the preferred language.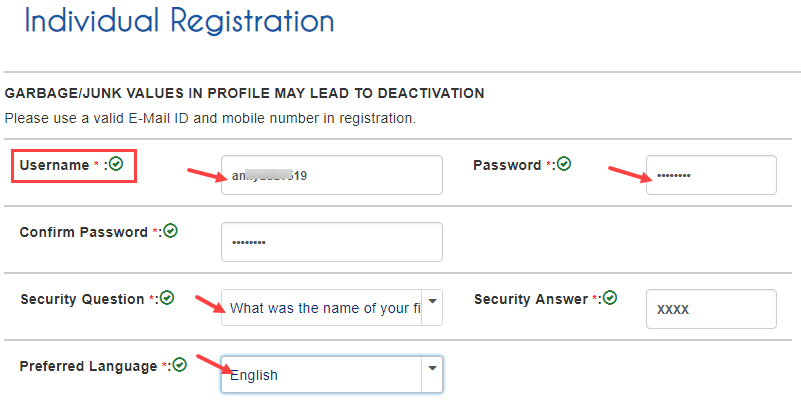 Step 2.1: Now enter your personal Details. Enter your Name as per Aadhaar or ID proof, Select Gender, enter Birth Date, Occupation, marital status, nationality, country. Enter your Mobile number and Email Address. You need to verify both details later.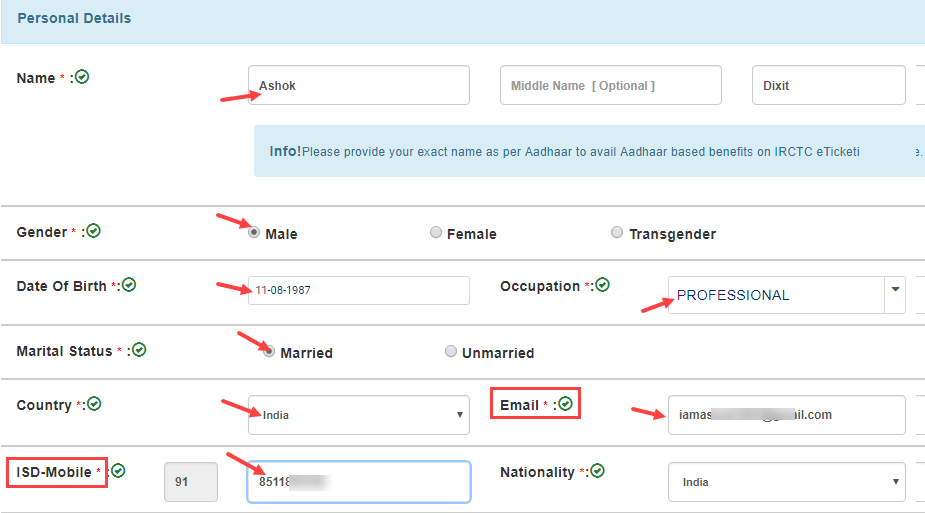 Step 2.2: Now enter your Address details. Choose your state, enter PIN code, enter the city. Again enter your mobile number. Office address same as residence select Yes. Enter captcha code and click on Register.
Step 3: Now confirm your mobile number and email address are correct. You need to verify both in the first login. Click on OK.

Done! you are successfully registered on IRCTC. Now open login page and enter your User ID and login password to log in.
Step 4: Login to your IRCTC account. You can see Mobile number and email address verification page. Click on "Verify Mobile With OTP" & "verify email id with OTP" to receive OTP.  Enter OTP and complete verification.
After verifying your mobile number and email address, your account now fully activated. You can now book your train tickets.
You can also install IRCTC official mobile application and login to application to book rail ticket on your phone.
So this is how to register and create IRCTC account to book train tickets online.