India's largest bank State bank of India has made such arrangements for promoting Digital India, so customers can do banking related work online. Whether you have to apply a Debit card or fund transfer, you can do all the work online.
You can now activate SBI internet banking service online, you will not have to go to the bank for this. Today I will tell you how you can register online for SBI Internet Banking and activate your net banking online.
You can do a lot of work online with SBI net banking. There are many bank related works, for which you have to go to the bank frequently and you have to face many problems.
But if you have the facility of SBI Netbanking then you can do many such things online and you can avoid visiting to the bank.
If you have sbi account and still not activated net banking then let's activate it online.
Activate SBI Net banking Online
To activate sbi net banking online you need 2 things. (1) Your registered mobile number (2) State bank Debit card
Let's start:-
1 Visit the https://www.onlinesbi.com page and open Internet banking login dashboard.
2 At login page click on New User? Register here. Now popup box will open you have to click on Ok.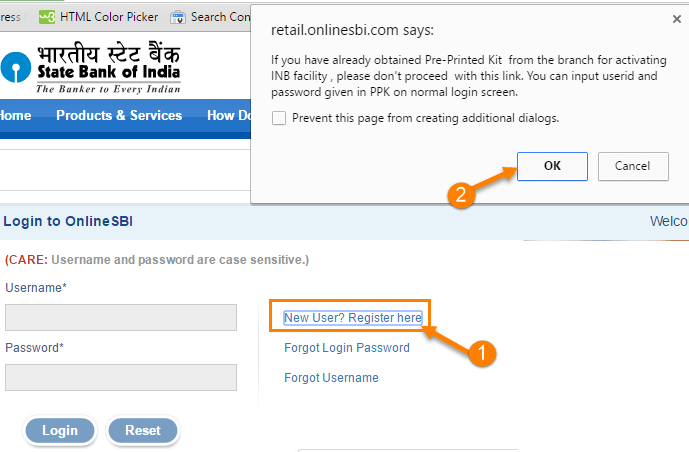 3 Now in your browser a new small window will be open, here you need to fill out all your account related details.

Account Number : Enter here your account number correctly.
CIF Number : CIF number is customer information file number, you can see it on your passbook. Enter here.
Branch code : You can see your branch code on passbook or you can search online, enter your branch code.
Country : In country select "India"
Registered Mobile number : Enter your Registered mobile number that linked with your account.
Facility Required : Select 'Full Transactions Rights" in facility.
Now type captcha code and click on submit.
4 After submitting bank account details, you will receive OTP password on your registered mobile number. You need to enter it in next screen.
5 Next screen you have 2 options:

I have my ATM Card (online registration without branch visit)
I do not have my ATM Card (Activation by branch only)
Here you have to choose "I have my ATM Card (online registration without branch visit)", Select this option and click on submit.
6 In next screen you have to made Rs.1 transaction to validate your Debit card.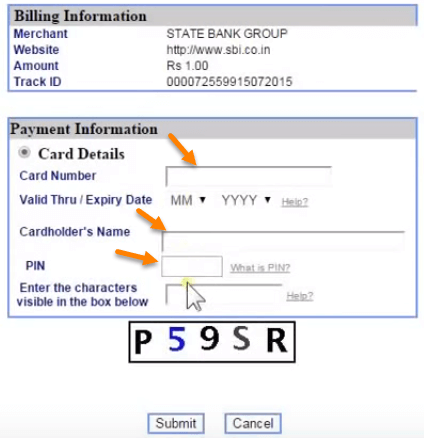 Enter your card number, expiry date and PIN number and click on Pay.
7 After successful payment, next screen you can see your temporary username and here you have to set your login password also. Set you Login password and click submit.

Good job!
Your Net banking is now activated.
9 Now Visit login page and Enter your temporary user ID and Login password and login. Next screen you have to set your new user ID, Login password and profile password.
After setup new user id, login password and profile password, you can now login to your account and use sbi internet banking.
So this is how you can register for SBI Internet banking online. If you have normal yellow color ATM card then possible that you may face an error, at this condition you need to visit bank and apply for net banking.