SBI Pan Card link Online | SBI Pan Card Register online 
Permanent Account Number (PAN CARD) is now mandatory to register for all bank account holders. Yes, if your pan card is not linked with your saving/current account then you can't make big transactions and also can't use many online banking services.
Good news for SBI (state bank of India) customers is that " Now you can register your pan card online". Yes, you just need Internet banking and follow a few simple steps, and you are done.
Today I will tell you how you can register pan card with your SBI account online using net banking. So let's start:-
Register Pan card With SBI Account Online
(1) First, you need to visit https://www.onlinesbi.com, enter user id and password and login to your account. You can activate your SBI net banking online anytime.
(2) After login, click on My Accounts & Profile and then click on Profile as you can see below screenshot.
(3) In Profile section, you can see PAN Registration option, click on this option.

(4) Next screen you need to enter profile password, just enter it. If you forget your profile password, you can reset it with your hint question & answer.
(5) Now you can see your Pan number is not registered with your bank account, click on "Click here to register" and enter your Pan number and submit.
(6) Now confirm your request, check again pan number correct or not. Once you sure hit confirm.

Next step you will receive OTP on your registered mobile number, enter OTP pin and submit.
That's all, your pan card submission request submitted successfully, you will receive the reference number, using this number you can track your request.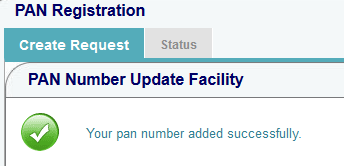 Your request will be forwarded to the branch for processing.
The branch will process your request within 7 days.
You can check the status of the request through the Status tab.
So, this is the simple procedure to register your pan card number with SBI account online through netbanking.
Frequently Asked Questions
Q.1: Net banking Require for this task?"
Answer: Yes. Netbanking require to do this. Visit SBI branch and apply for net banking.
Q.2: I don't have PAN CARD?
Answer: please apply for PAN CARD online. using Aadhaar card now its very easy. Read this
Q.3: When my PAN CARD linked with my bank account?
Answer: Within a week your PAN will be linked with your sbi account.
Q.4: Bank rejected my request.
Answer: Possible you have entered the wrong pan number, plz check.
Q.5: Without Net banking how to link pan card with the bank account?
Answer: Please visit your Branch and fill KYC form.