Bandhan Bank customers can request cheque book online through mobile banking, net banking, and SMS banking. If you are Bandhan Bank customer and want to order new Cheque book then here are 3 ways to request it online.
Bandhan Bank Ltd. is an Indian private sector bank headquartered in Kolkata, West Bengal. You can open saving account in Bandhan Bank with 5000 initial deposit.
Follow these 3 methods to apply Bandhan Bank cheque book online:-
Request Bandhan Bank Cheque Book Online
No need to visit the home branch to apply new Cheque book, here are 3 methods to apply it online.
1# Request Through Net Banking
Bandhan Bank net banking facility allows you to access bank account online. You can activate Bandhan Bank net banking online.
To request new Cheque book:-
1: Login to Bandhan Bank net banking, visit: https://bandhanbankonline.com/
2: After login, click on My Services — Cheque Book Request
3: Next screen select your Account number and submit.
4: Now enter your transaction password and submit your request.
That's it. The new Cheque book will be delivered within 7 days on your registered address.
2# Apply through Mobile Banking
Bandhan Bank also provides Mobile Banking facility to manage the account on phone. You can activate mobile banking online. Read: Bandhan Bank Mobile Banking activation
To apply Cheque book through mobile banking:-
1: Login to mobile banking.
2: After login, tap on Services.
3: Next screen, select Cheque Book Request.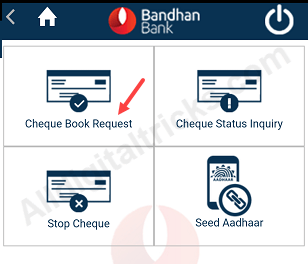 4: Select your Account number.
5: Now enter transaction PIN and submit your request.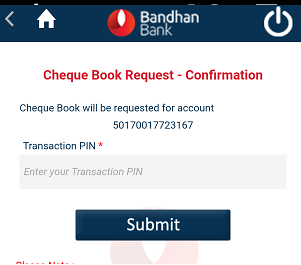 3# Order by sending an SMS
If you don't have net banking and mobile banking then no need to worry, you can request new Bandhan Bank Cheque Book by sending an SMS from your registered mobile number.
Send below SMS from registered mobile number:-
Type "CHQBOOK<space>Account number" & send to 9223011000 (e.g: CHQBOOK 1013XXXXXX2723)
So by following these 3 methods, Bandhan Bank customers can request new Cheque Book online without visiting branch.