Vijaya Bank customers can now request new Cheque Book online without visiting the home branch or filling request form.
Vijaya Bank is a public sector bank with its corporate office in Bangalore, Karnataka, India. The bank has a network of 2031 branches including 2001 ATMs in the country. You can open a regular saving account with just 1000 initial deposit.
The Bank is offering free Mobile Banking and net banking services to the customer so they can access many banking related services online.
If you are Vijaya Bank customer and want to apply new Cheque Book then see below step by step guide:-
Request Vijaya bank Cheque Book Online
You can apply new Cheque Book in Vijaya Bank through Mobile Banking. If your Mobile Banking is not active then read this: Vijaya Bank Mobile Banking activation process
See how to request new Chequebook.
1: First login to Vijaya Bank Mobile Banking App. Enter your 4-digit password to log in.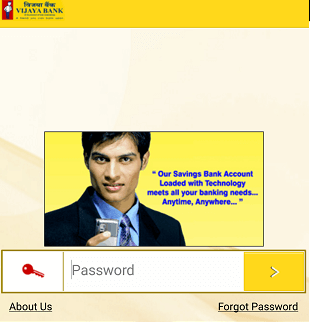 2: After login, tap on Banking tab as you can see below screenshot.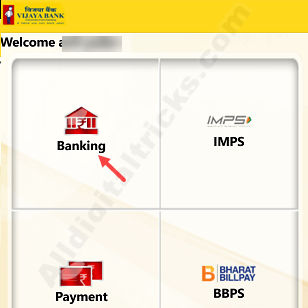 3: Now tap on Request To Bank tab.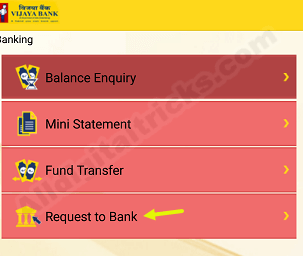 4: Next screen, select Request for Cheque Book option.
5: And finally select your Account number and enter 4-digit MPIN to confirm your request.
That's all, you have successfully submitted your request for a new Cheque Book. It will be delivered to the home address via courier.
So this is how Vijaya Bank customers can request new Cheque Book Online through Mobile Banking without visiting the branch.
Please note: Vijaya Bank is now merged with Bank of Baroda, so please replace your current Cheque Book with new.
FAQ
Q.1: How can I get a Cheque book from Vijaya Bank online?
Ans: You can apply for a new Cheque Book in Vijaya Bank using Mobile Banking as well as net banking.
Q.2: Do I need to apply for a new Cheque Book after BOB- Vijaya Bank merger?
Ans: Yes, you need to apply for a new Cheque Book. Please contact your branch for more details.