If you are Federal Bank customer and want to order new Cheque Book then no need to visit Bank, you can request Federal Bank Cheque Book online or by sending an SMS.
The Federal Bank Limited is a major private sector commercial bank headquartered at Aluva, Kochi, Kerala. As on 31 March 2016, Federal Bank has 1252 branches and 1680 ATMs across the country.
You can apply new Cheque book in federal bank through net banking, mobile banking and SMS banking, see how:-
Request Federal Bank Cheque Book Online
1# Apply through net banking
You can activate Federal Bank net banking facility online and access online services without bank visit.
To request Cheque Book through net banking:-
1: Login to net banking account, visit: https://www.fednetbank.com/
2: After login, click on Accounts and in Services tab, select Cheque Book Request.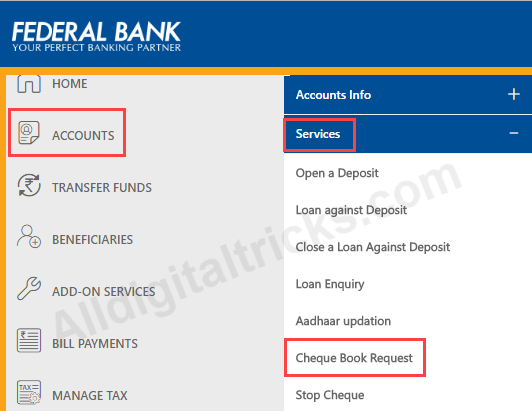 3: Now select account number, select number of leaves, select delivery option (Home) and enter the transaction password to confirm your request.
2# Request through Mobile Banking
You can also use Federal Bank mobile banking facility to order new Cheque Book.
1: Login to Federal Bank mobile application.
2: After login, tap on More option and select Request ChequeBook.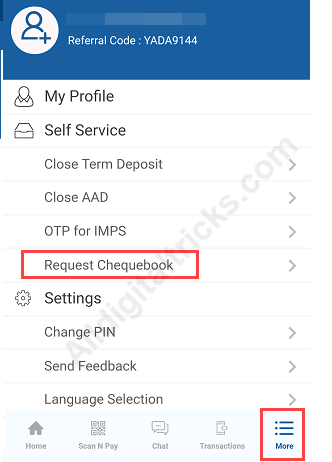 3: Now select your Address in delivery option and select number of leaves. Now submit your request.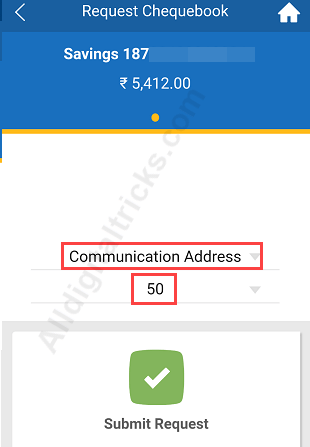 3# Order Cheque Book by Sending an SMS
If you don't have net banking or mobile banking facility then you can use SMS Banking facility to apply new Cheque book.
Just send an SMS from your registered mobile number to order new Cheque book.
Type "CBR<space>Account number>" and send to 9895088888 (OR)  5676762
So this is how Federal Bank customers can request Cheque Book online without visiting branch.