Kotak Mahindra Bank customers can request new Cheque Book online without visiting branch. You can use net banking, mobile banking, and SMS banking to apply new Cheque book.
Kotak Mahindra Bank is private sector bank, it has a network of 1,369 branches across 689 locations and 2,163 ATMs in the country. You can apply zero saving account (Kotak 811) here with all banking facilities.
If you are Kotak Bank customer and want to apply new Cheque Book then here are 5 online ways to order Cheque book.
Kotak Mahindra Bank Request New Cheque Book
You can activate Kotak net banking and mobile banking online, both services are free of charge. You can manage your account online and avail many online services.
See how to request Cheque Book online in Kotak Bank.
1# Request Through Mobile Banking
Kotak Mobile Banking facility available for all customers. You just need to install Kotak mobile banking application and register.
1: To apply Cheque book login to Kotak Mobile baking.
2: After login, tap on Service Request and then select Cheque Requests option.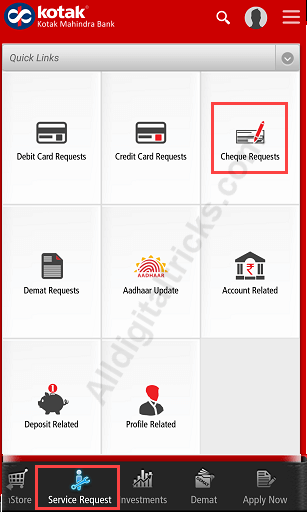 3:  Now select total Cheque leaves (25 or 50) and tap on Request Cheque Book. That's it.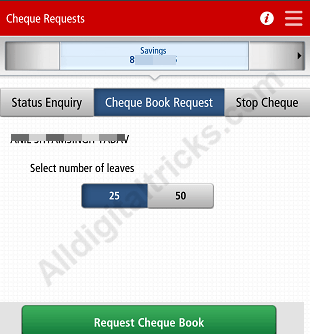 2# Apply through net Banking
If your Kotak bank net banking is active then you can use this facility to apply new cheque book online:-
1: Login to kotak net banking account, visit login page: https://www.kotak.com/
2: After login, click on Banking tab. Now click Service Requests — New Service Request.
3: Now select your Account number and the select number of leaves (25 or 50). Click Order Cheque Book.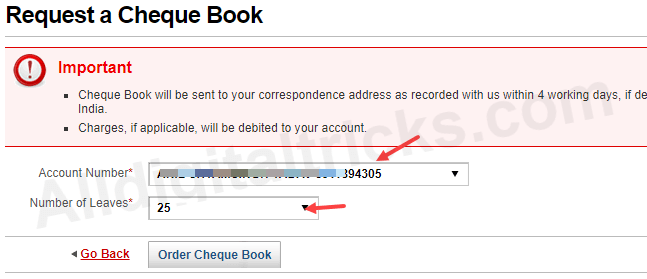 3# Apply Without Net Banking or Mobile Banking
If you don't have net banking or mobile banking facility then you can still request for new Cheque book online. See how:-
1: Visit Kotak Cheque Book Request page: https://www.kotak.com/en/transaction-services/cheque-book-request.htm
2: Now enter your registered mobile number and then enter Date of Birth or CRN number. Now click on Send OTP.
3: You will receive OTP on your registered mobile number, enter this OTP in below & click Confirm.
4: Now you can see your Account Details. Select your Account.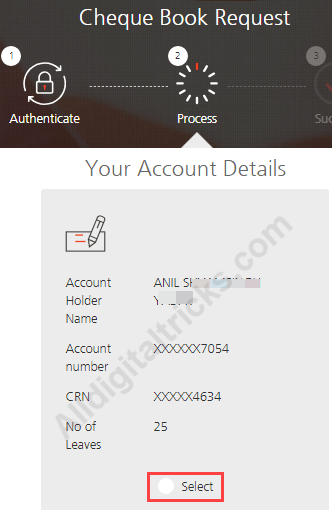 5: And finally Confirm your request, click on confirm.
4# Send Request through SMS Banking
You can also use Kotak Bank SMS Banking facility to request new Cheque book by sending an SMS from your registered mobile number.
Type "CHQBOOK(space)Last 4 digits of Account Number" & send to 9971056767 or 5676788 (e.g: CHQBOOK 1234)
5# Request on Phone Banking
You can also use Kotak Bank phone banking facility to order new Cheque Book.
Call this Kotak Phone Banking number:  1860 266 2666 (Call charges apply)
Verify your account by entering ATM card details
Now place your request