Want to order new Cheque Book for your HDFC saving account?Well, you can request or apply new HDFC Cheque book online, no need to visit bank for this.
You will receive your first free Cheque Book when you open new saving/current account in HDFC bank. There is no charge if you order Cheque book with 25 cheque leaves per half-year, however additional cheque book of 25 leaves will be charged at Rs 75 per cheque book.
If your Cheque book completed then you don't need to visit bank for new one, here we will show you 5 online methods to request new Cheque book in HDFC bank.
5 Ways To Request HDFC Bank Cheque Book Online
HDFC Bank gives your net banking, mobile banking, missed call banking, SMS banking, phone banking facility for banking services. Many bank related works you can do without bank visit.
Now See 5 Online Ways To get new Cheque Book at home:-
1# Request HDFC Cheque Book Through Mobile Banking
HDFC Mobile Banking facility available for all customers. You can activate mobile banking online. Read: How To Activate HDFC mobile Banking
1: Login to mobile banking application
2: After login tap on Accounts tab, and here in Request option tap on Request Cheque Book.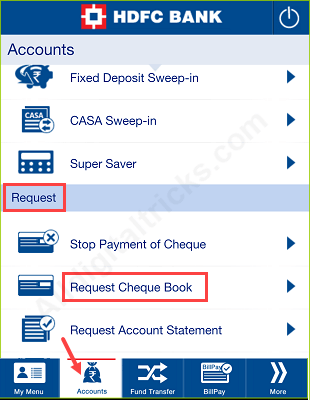 3: Next screen submit your request. That;s it your request submitted successfully.
2# Order New HDFC Cheque book Through Net Banking
HDFC net banking facility another way to access and manage your account online. You can activate net banking online. Read: How to activate HDFC net banking
1: Login to HDFC net banking, enter User ID and IPIN (Login password).
2: After login, click on Accounts, then click on Cheque Book. Select your account number and click on continue.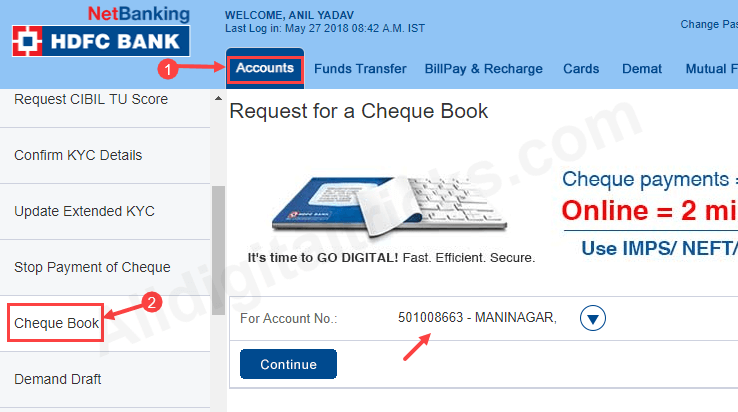 3: Now confirm your address is correct and click on confirm. Done your request submitted successfully.
3# Give a just Missed Call To order New HDFC Cheque Book
If you don't have mobile banking or net banking facility then don't worry. To order new Cheque book you just need to give a missed call from your registered mobile number and your request will be submitted.
Dial this toll-free number from your registered mobile number: 1800-270-3366
After dial this number call will be automatically disconnected.
You will receive confirmation SMS shortly.
4# Send SMS To Request HDFC Cheque Book
You can also send an SMS to request new Cheque Book. ( SMS charges apply)
You need to send an SMS from your registered mobile number.
Type "chq" and send to 5676712
You will receive confirmation sms shortly.
5# Phone Banking
And the last option is phone banking. To use this facility please keep your Customer Identification Number & Telephone Identification Number (TIN) or Debit / ATM /  Card number & associated PIN ready to access your account.
Click here to get your city phone banking number
Dial phone banking number and enter Debit card details or Customer ID and TIN number
Follow IVR instructions
So by following these 5 online methods HDFC customers can request new Cheque book online without visit branch/form filling.