Kotak Bank customers can request physical ATM PIN online through net banking. If you are unable to generate Kotak Debit card ATM PIN online then you can request a physical PIN online and receive at mail address.
As you know, you can generate ATM PIN in Kotak Bank online using net banking, mobile banking. You can also generate Kotak Debit card PIN online without net banking/mobile banking using Services portal.
For some reasons, if you are facing any difficulties in PIN generation then you can also request to Bank for physical ATM PIN. Don't worry you don't need to visit Bank, you can request physical ATM PIN online.
Request Physical ATM PIN Online in Kotak Bank Online
If you are facing any issue while generating atm pin online in Kotak Bank then follow below process and get physical ATM PIN to your mail address via post
First, you need to login to Kotak Internet Banking: https://www.kotak.com/
After login, Click on Debit Card tab and next click on Request for Physical PIN.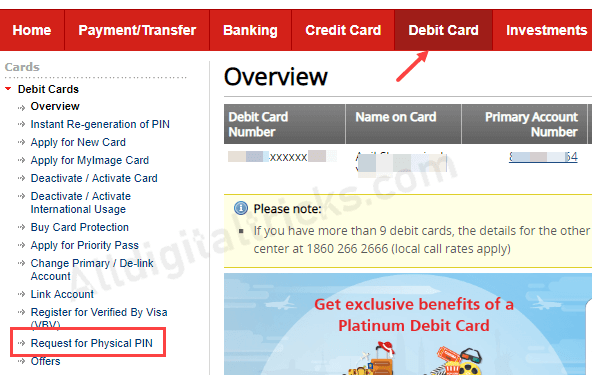 Next screen, select your Debit card number, confirm your address and submit your request.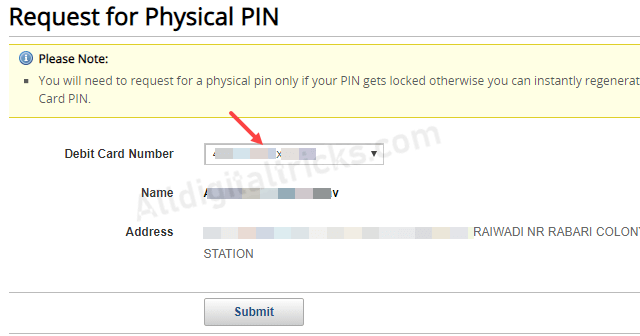 Request Physical ATM PIN By SMS
You can also send an SMS from your bank registered mobile number to request a physical ATM PIN by post.
Send an SMS from your registered mobile number to 9971056767 or 5676788
DEBITPIN<space>Last 4 digits of Debit Card Number
Please note:
Charges, if applicable, will be debited to your account.
The PIN will be mailed to your mailing address as within 8 working days.
FAQ
I'm unable to generate ATM PIN online for my Kotak Debit card?
Please follow the above process and request for physical ATM PIN.
How much charges for Physical ATM PIN?
You will be charged Rs.50 when you request Physical PIN.
When I will receive my physical PIN?
The physical ATM PIN will be delivered to your registered home address within 8 working days via courier.
So this is how Kotak Bank customers can request physical ATM PIN Online for Debit card.