So your SBI account's Cheque book has been completed and you are going to bank to take a new check book, then wait a bit. You can do this online on your Smartphone.
Today I'm going to tell you about 3 methods to order your SBI Cheque book online and you can get your check book at home within 10 days.
Well today no one is visit to bank for these kind of small works, because all these facilities are provided online by all banks, you just need to know this.
So let's know about 3 ways to request cheque book online of the SBI account.
3 Ways to request SBI Cheque book online
Let me tell you that the charge of the new cheque book is Rs.75 + service tax (Rs.90 approx), Rs. 3 per leaf is charged.
When you open an account, the first check book is provided to you free of charge. But after that you have to pay the charge.
So let's order new cheque book.
1. Through SBI Net Banking
If you have the facility of State Bank of India's internet banking then it is very easy task for you.
If you do not have Internet banking facility, then you can activate Net Banking Online using your Debit Card and Registered Mobile Number.
First, login to internet banking, visit https://www.onlinesbi.com
After login, click on e-Services tab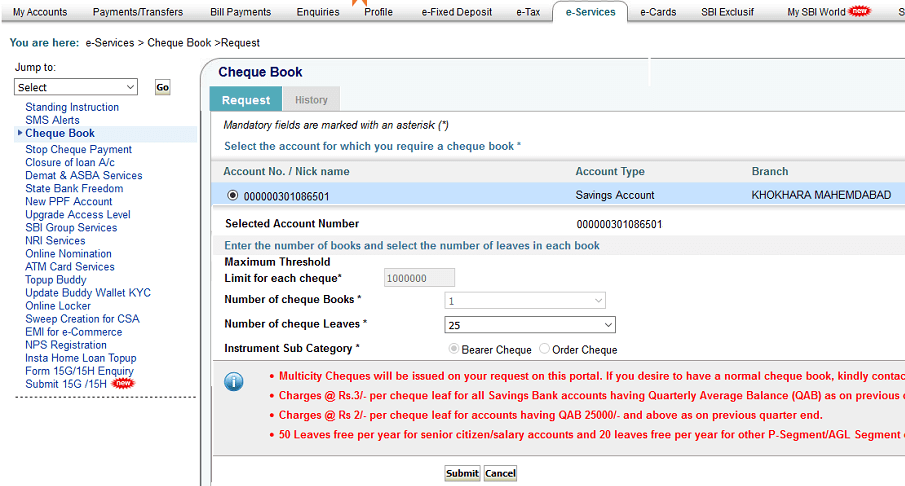 In e-Services you have to click on the Cheque book.
Now select your account number and select total leaves for chequebook.
Just click Submit and send your request.
2. Through SBI Anywhere Application
You can also request a Cheque book on State bank Anywhere Application.
To login to SBI Anywhere, enter your Internet banking user ID & password, if you are first time logging in then first you have to do validation.
Login to state bank anywhere & tap on Request.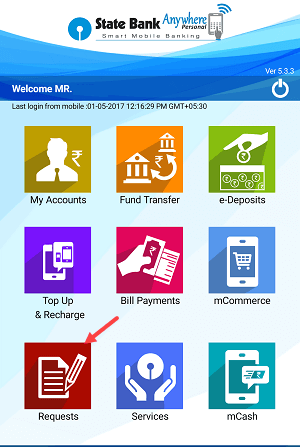 Next screen tap on Request Cheque book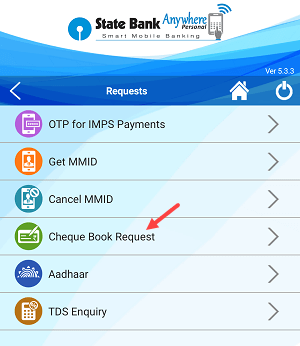 Now select your number, in the number of check leaves, select your total leaves  (10, 25, 50) and select Submit.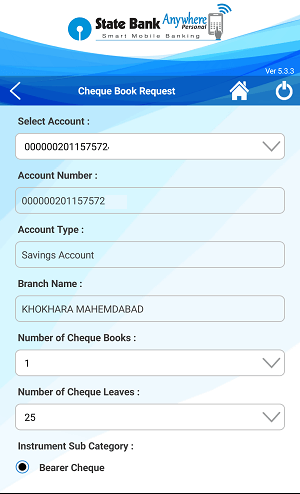 3. Through SBI Freedom
You can also apply for check book on State Bank freedom.
If you are not registered on state bank Freedom, then you can follow this guide.
First login to state bank freedom.
After logging in, tap on Request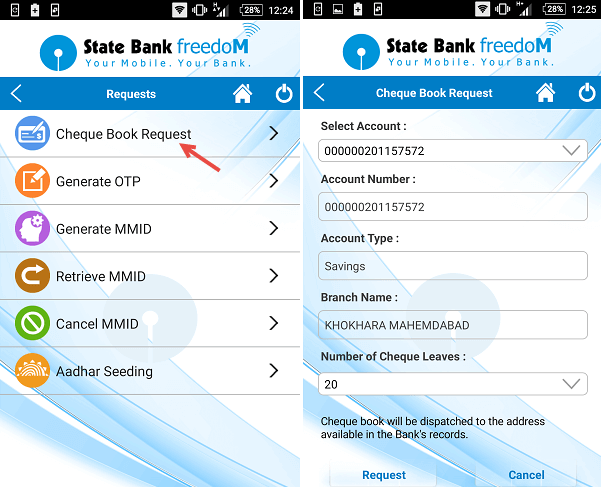 Now tap the Cheque book request in the next screen
Next choose your account number and select number of cheque leaves (10,25,50) & submit.
So these are three best ways to order (request) cheque book for your state bank account, Within 10 days you will receive your chequebook via post.