Syndicate Bank customers now request new Cheque Book online through mobile banking and net banking and collect it from the branch.
Normally to apply new Cheque Book in Syndicate Bank you need to visit Bank and need to fill the request form. But now you can directly order new Chequebook online without filling the form.
Here is step by step guide on how to order new chequebook online in Syndicate Bank.
Request Syndicate Bank Cheque Book Online
Follow these two online methods to order chequebook online:-
1# Request Through Mobile Banking
Syndicate Mobile Banking facility allows you to manage your account online on the smartphone. You can access many online banking services through this facility.
If you don't have this facility activated then read this and activate mobile banking online. Read: Syndicate Mobile Banking Activation process
To order Chequebook through Syndicate Mobile Banking:-
1: Open Synd Mobile Banking Application and log in.
2: After login tap on Requests and select Cheque Book Request option.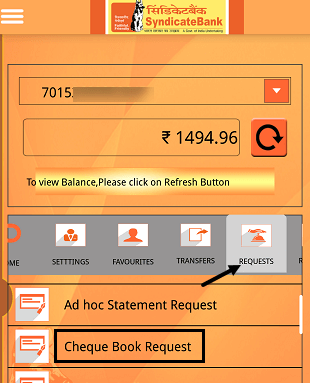 3: Next screen, select your Account number and select cheque leaves and submit your request.
That's it, your request submitted successfully.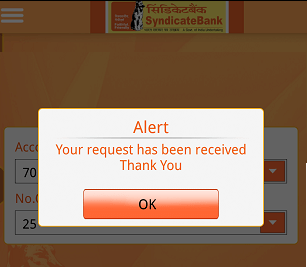 2# Apply Through Net Banking
You can also use Syndicate Bank net banking facility to apply new Chwye book online. If your net banking is not active then read this: How to register for Syndicate Bank net banking facility
1: Login to Syndicate Bank Net Banking, visit: https://www.syndonline.in/B001/ENULogin.jsp
2: After login, click on Customer services option and on your left side click on Cheque Book Request.
3: Now select your Account number and select total cheque leaves (20,50). Now In the mode of delivery, you have Branch option that means you need to collect chequebook from a branch. Select your city and brach and submit your request.
So this is how Syndicate Bank customers can apply for new Cheque Book Online without visiting branch.