Forgot Bank of Baroda (BOB) net banking transaction password? Don't worry you can reset it online using your debit card, no need to visit the bank.
With Bank of Baroda Internet banking facility, you can access and manage your account online. You can register online for the Internet banking facility. Read: How to register for Bank of Baroda Internet Banking online
Ok, now see how to reset your BoB transaction password when you lost it.
What is the BOB Transaction Password?
Transaction password used to authorize any transaction in BOB net banking. When you add beneficiary, change any details, making fund transfer you need to enter the transaction password to authorize it. It is the second layer of protection after the login password.
Forgot Bank of Baroda Net Banking Transaction Password – Reset Online
1: First of all visit BOB Internet banking page – https://www.bobibanking.com/
Click on Retail user link to open the login page.
2: In the new window, enter your User ID and then click on "Reset your transaction password using debit card, click here"
3: In the next screen, you need to enter your ATM/Debit card details. Choose card type, enter the card number and expiry date and type your PIN. Now click on next.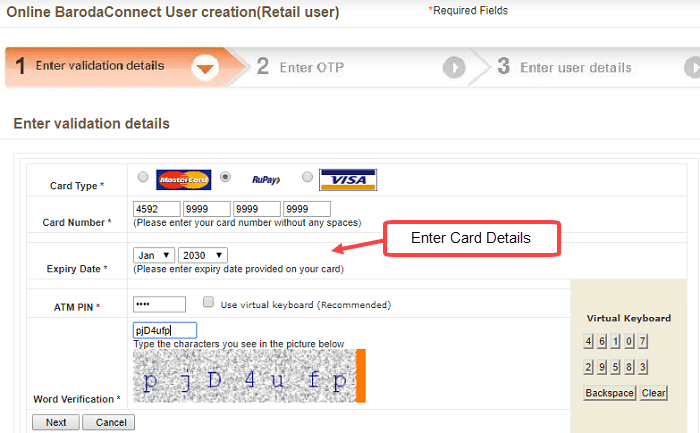 4: You will receive an OTP on your registered mobile number, enter this OTP in next screen.
5: In the last step, set your new transaction password. Make sure the password is strong enough and you can remember easily.
That's it you have successfully reset your Bank of Baroda Internet banking transaction password.
FAQ
Q.1: How can I get my transaction password in Bob?
Ans: When you register for BOB net banking, you can generate your transaction password using a Debit card. You can also reset your transaction password if you forgot it using a debit card.
Q.2: What is the transaction password in BOB net banking?
Ans: You need to enter this password to authenticate any transaction in net banking.
Read also: