So you forgot SBI Net Banking login password. Don't worry here we will tell you three methods to reset your SBI Internet Banking login password online, no need to visit Bank. You can recover your login password online.
SBI customers can register for net banking online without visiting the branch. Read: How to register for SBI net banking online
To login to your SBI net banking account, you need to enter your login password. For some reason, if you forgot it then you have three options to reset it and set a new login password.
Follow these three methods and reset your SBI net banking login password.
Reset SBI Net Banking Login Password
You can reset your SBI net banking login password by following these 3 methods:-
Through Profile Password
Using ATM Debit card
Receive your Login password through courier
Here is the step by step guide:
1. Reset SBI Internet Banking Login Password through Profile Password
As you know in SBI Internet banking, you have to remember two passwords (1) Login password (2) Profile password.
If you remember your profile password then it's very easy for you to reset your login password.
1 First of all, visit https://www.onlinesbi.com & open the login page.
2 In the login page, click on Forget login password link.
3 Next screen select "Forget my login password" and click the next step.
4 Now enter your SBI net banking username, account number, country, Registered mobile number, date of birth, and submit these details.
You will receive an OTP password on your registered mobile number, enter the OTP password.
5 In the next screen, you can see 3 options to reset your login password. Select the "Using Profile password" option and submit.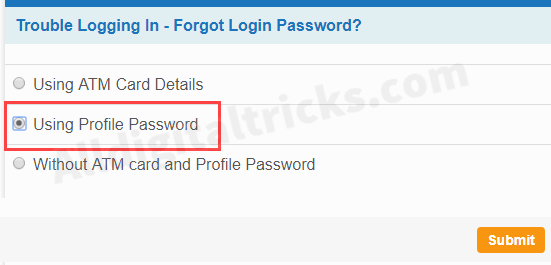 6 In the next step enter your profile password.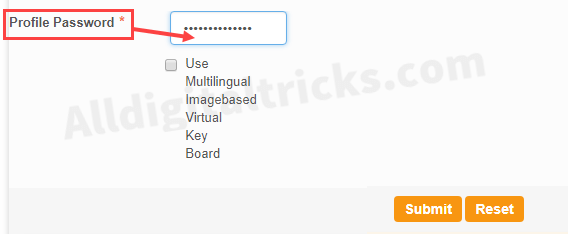 7 Almost done! now set your new login password.
Done your password has been reset successfully, now you can login to net banking.
2. Reset SBI Internet Banking Login Password using ATM/Debit card
To Reset using ATM/Debit card select Using ATM Card details option.
Next screen, enter your card details like card number, expiry date, PIN number and click on proceed. Rs.1 small transaction made from your account which will be refunded.
Done! Now set your new login password in the next screen.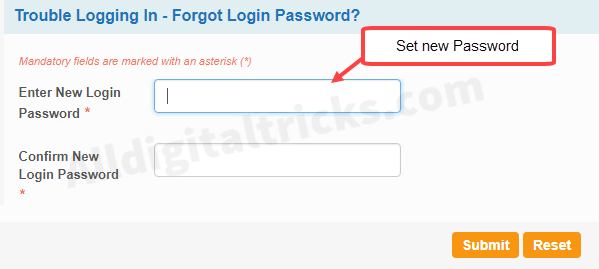 3. Receive Your Login Password via Post at Home
If you forget your profile password and ATM/debit card not work for you then this is last option to get back your login password.
Select "Without ATM card and Profile password" option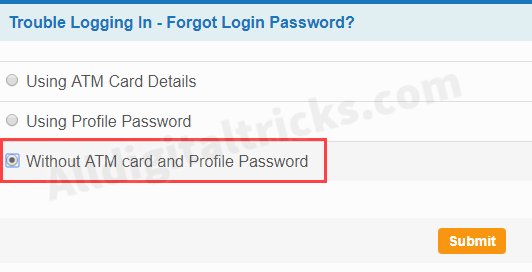 In next screen select "Receive new login password by post" option.
Now confirm your postal address and submit your request. You can also edit your address by clicking on My Address is incorrect.

That's it. You will receive your new login password by post within 10 days. So by following these three methods, you can reset your SBI Internet banking login password.