Today we will share with you – 5 methods to find your SBI Account CIF Number. Before this, let me tell you a little bit about the CIF number first.
What is SBI CIF Number?
CIF stands for Customer Information File. This number is very important for banks to track customers account details. In short, all your banking related information is stored in CIF number, which banks use for their work.
If you have to transfer your account somewhere else then you need CIF. There are many things where you are asked about CIF.
Many SBI users still unable to find his/her CIF number, so today I will tell you 4 methods – how you can see your Customer Information file number.
Check SBI CIF Number Online? – 5 Methods
For some reason, if you unable to find your SBI Account CIF number then follow these four methods and know where it is:
1. Through Internet Banking
You can check your SBI account CIF number through net banking. Read: How to activate net banking online without visiting the branch
1- Login to SBI Internet Banking. Visit: https://www.onlinesbi.com
2- After logging in, you can see the Account Summary page, click on "View Nomination and PAN details" (see below screenshot)

3- And on the next screen, you can see your CIF number.
2. View in E-statement
If you don't have a net banking facility and your email address is registered with your account then you can request for e-statement using SMS. In this e-statement, you can see your CIF number also.
You just need to send an SMS from your registered mobile number to receive e-statement. Please, read this step by step guide for more details.
After receiving e-Statement just open PDF file where you can view your CIF number as you can see below screenshot.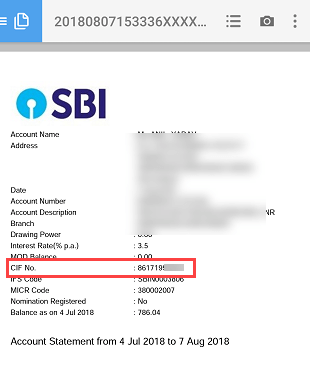 3. View on SBI Anywhere
You can also check your CIF number in the State Bank Anywhere Application. Read: How to activate SBI Anywhere
1- First, log in to SBI Anywhere personal application.
2- Open Services tab after login.
2- Tap Online Nomination in Services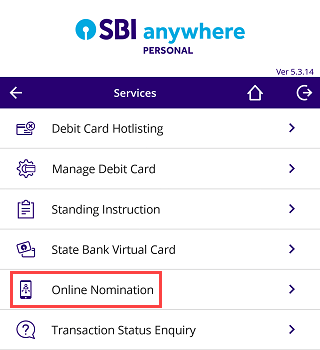 3- In the next screen, select the transaction account in the account type and then select your account number. Now you can view your CIF number as you can see below screenshot.
4. How To Receive SBI CIF number by SMS
If you don't have net banking, mobile banking, and not receiving e-statement then you can submit an online complaint to SBI and ask you CIF number. They will reply to you within 7 days and send you an SMS reply with your CIF number.
As you can see in the below screenshot: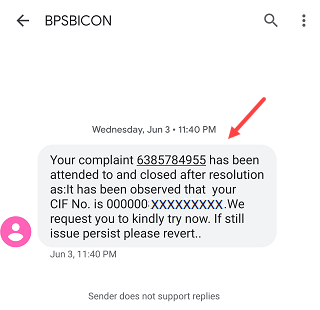 5. View in your passbook
CIF number is printed in your passbook too. On the first page of the passbook, you can see all the details of your account.
So, friends, in this way you can check the CIF number of your SBI account online / offline. If you know any other method, let me know.
Update: Now SBI customers can use ATM Debit card to find their account CIF number very easily, for more details visit this guide: How to Find SBI CIF number using ATM Debit Card
FAQ
Q.1: How to get CIF number of SBI through SMS?
Ans: There is no way to get your SBI account CIF number through SMS. Please follow the above methods to know.
Q.2: How to find CIF number in sbi cheque book?
Ans: You can not find your CIF number on the SBI Cheque book. Please check your passbook front page where the account details mentioned.