Want to temporary block/unblock SBI ATM/debit card for security? Yes, you can turn off your SBI ATM card temporary to avoid any fraud which is happening a lot nowadays, specially online.
While using Debit card, it is important to take care of many things related to security, especially when you are using it for online shopping .
State Bank of India now offer you such facility through which you can temporary deactivate your debit card when you are not using it. With this feature you can protect your card from misuse.
See how to use this facility.
Temporary Block/Unblock SBI ATM/Debit Card
When you switch off your card, you can't use it anywhere like ATM, Pos and online. To use card you can switch it ON.
To use this feature you need to install SBI Anywhere mobile banking application which available for Android, iOS and windows phone. Install this application and register using net banking login credentials.
1: To switch off your card, login to SBI Anywhere.
2: After logging in, you have to tap on Services.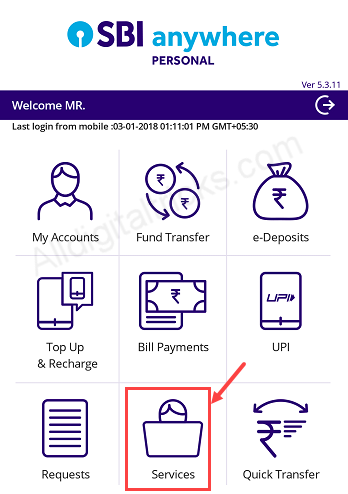 3: Next screen tap on Manage Debit Card.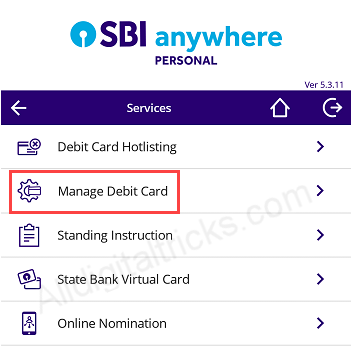 4: Now select your account number and debit card.
Now you need to turn OFF all options which includes Domestic use, International usage, ATM txns, Merchant (POS), e-commerce (CNP) txns. Now tap on submit.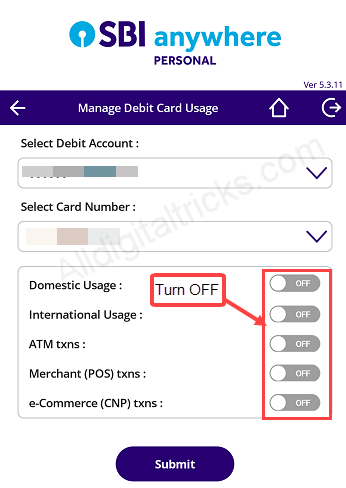 5: In next screen confirm your request.
7: You will receive One time password on your registered mobile number, enter OTP and submit.
That's it. Your SBI ATM/debit card is now temporary blocked and not usable at anywhere. To use card again, simply turn ON all options.
Tips:
If you are using your card only for domestic use, then no need to turn on International usage. Keep this option off.
If you are not using your card online then keep e-commerce (CNP) off.
You can also disable ATM usage if you loss debit card at home.
So this is how you can temporary block sbi atm/debit card to prevent fraud/misuse. If you lost it and there is no chance of getting it back, block it permanently and apply for new one.