Now SBI customers can update and submit their KYC online through Internet banking. Yes, the bank has launched a KYC facility for all customers through net banking. If you are using an online banking service then you can also update your KYC online.
You need to keep your KYC (know your customer) up to date in which you need to submit your ID proof, address proof, and KYC form. If your KYC is expired then you cannot perform any transactions like ATM withdrawals, or online transfers.
If you are an SBI customer and want to submit your KYC online then follow the below process:
Update SBI Account KYC Online through net banking
(1) To update your KYC, first you need to login to your SBI net banking account. Visit (https://retail.onlinesbi.sbi/) and login using your username and login password.
(2) After login successfully, you can see the "MY ACCOUNTS & PROFILE" tab, click on this and then click on the "Update KYC" option as you can see in the below image.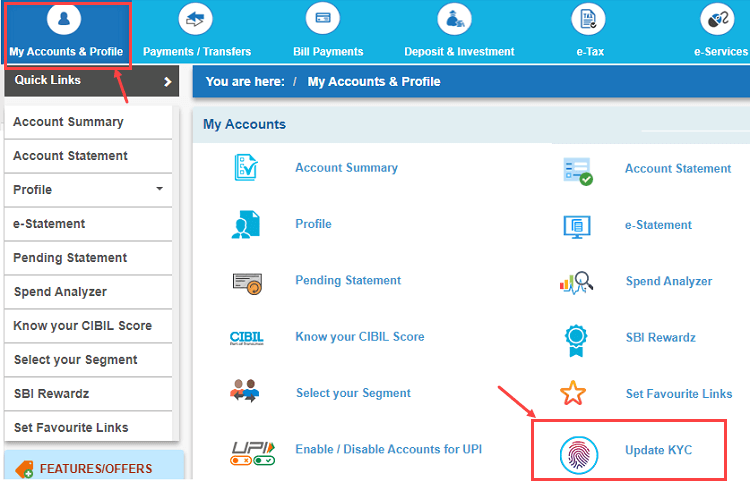 (3) Next screen select your account number which KYC is pending and submit.

And the next screen you can follow the online paperless KYC process. If your KYC is already completed and not pending then you can see the "No KYC due" message on the next screen.
This online KYC process is fully digital and paperless and it takes only 2 minutes to update your KYC details.
After submitting your KYC through online banking, you can track your request online by login to net banking. Just Login to net banking and go to the"Update KYC" option as mentioned above. If you can see the "Your KYC updation is not due as of now" message on the screen, it means your KYC is not pending and is already completed.

So this way you can avoid bank visits and update your SBI account KYC online (a completely paperless process).