Pensioners can now view and download pension slip in SBI through Net banking online. A pension slip contains details of pension payment credited to a savings or current account held by a pensioner.
You can generate the slip for any month starting October 2006 up to any past month in the current year.
And this pension slip contains your pension-related all details like your PPO number, Date Of Retirement, Commutation Installment date & end date, life certificate submitted date, Basic pension amount, Dearness Allowance/Relief, Total Pension Paid, 29-10-2018, Pension Credited Date, Gross Pension and all other details.
If your pension also comes in SBI then read this step by step guide and view/download your pension payment slip.
Download/View Pension Slip in SBI online
All you need, SBI Internet banking facility to check your pension payment slip online. You can activate your SBI net banking facility online using Debit card.
Step 1: Login to SBI Internet Banking and enter your User ID and login password: https://onlinesbi.com/
Step 2: After login, click and open  e-Services tab and here click on pension Slip (as you can see below screenshot)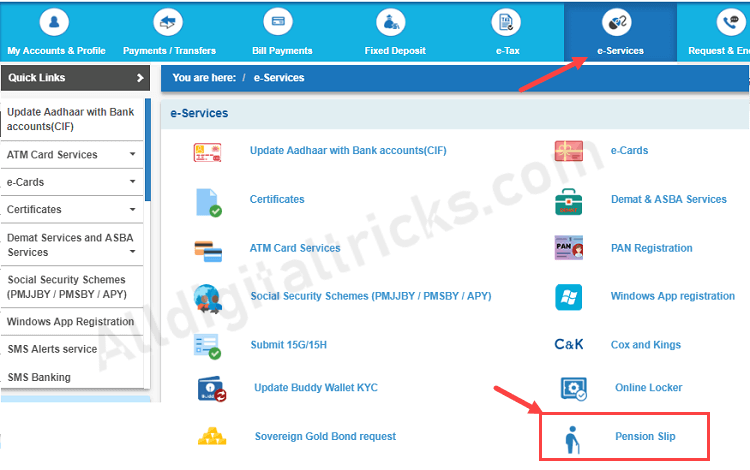 Step 3: On the next screen, select year and month and submit. (You can view any month and year pension slip starting from 2006)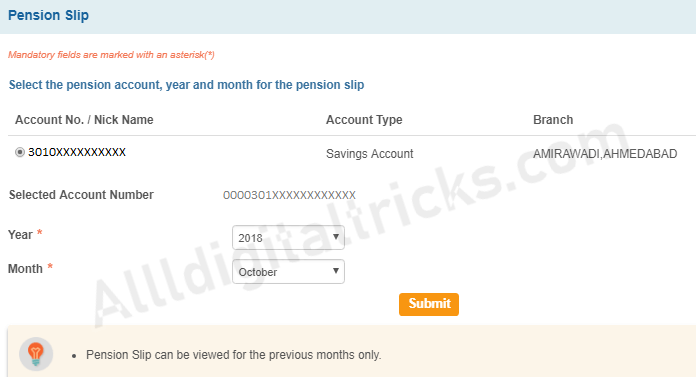 Step 4: And now click on your PPO number unique ID.

And the next screen you can view your pension slip. You can also print or download this slip by clicking on view/download.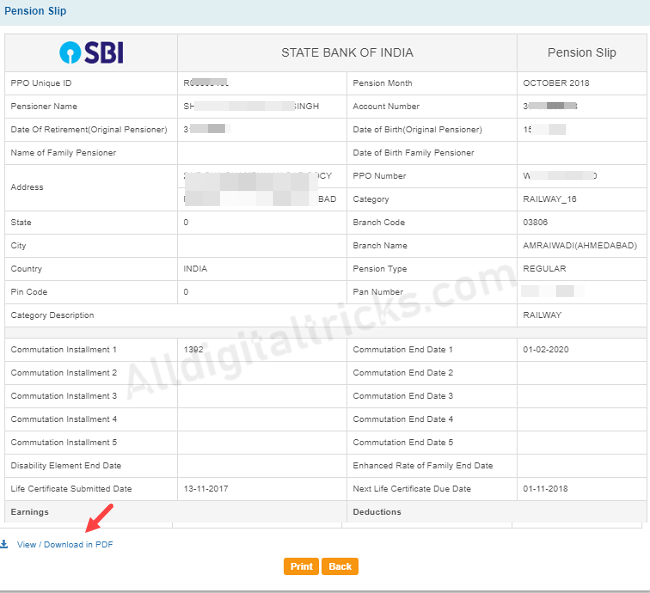 Please note, you can only generate the pension for months for which you have received a pension payment from the government.
So this is how pensioners can view and download pension payment slip online in SBI through net banking and check their pension-related details.
FAQ
Q.1: How can I get my pension slip from SBI?
Ans: You can download your Pension slip in SBI Online through net banking. Please read the above steps. Make sure you have active net banking facility.