SBI Quick BANKING is a new service from State Bank of India which involves Banking by giving a Miss Call or sending an SMS with pre-defined keywords to pre-defined mobile numbers.
With SBI Quick banking you can:-
Check your account balance and statement
Order new Cheque Book
Block/Unblock your ATM Card
Enable/Disable ATM Usage
Generate Green PIN for ATM card
This service can only be activated for the mobile number that is registered for a particular account with the Bank. You can change your SBI registered mobile number online.
Here we will tell you how to register and use SBI Quick Banking facility.
1# How To Register for SBI Quick Banking
SBI Quick – available on SBI Anywhere so you don't need to install official application.First you need to register for SBI Quick banking through your registered mobile number.
See how:-
1: For SBI Quick registration you just need to send an SMS from your registered mobile number.
Type "REG <Account number>" & Send to 09223488888 (E.g: REG 1234560000)
After sending above sms, you will receive success message that you are registered for SBI Quick banking. Now you are ready to use SBI Quick facility.
2# How To Use SBI Quick Banking
SBI Quick is sms and miss call based facility. For SMS you will be charged for sending sms while miss call is free of charge.  SBI has launched SBI Quick application which available in SBI Anywhere.
See how to use SBI Quick:-
1: Open SBI Anywhere and tap on More, here you can see SBI Quick. Tap and open it.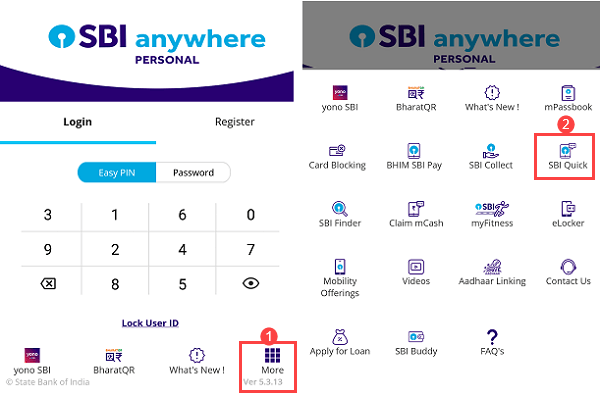 2:  Now you can see Account Services, ATM Debit card services.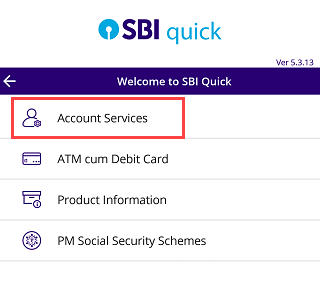 3:In Account services, you can request for account balance and statement by calling or sms, request new cheque book, request 6 month statement on your registered email address.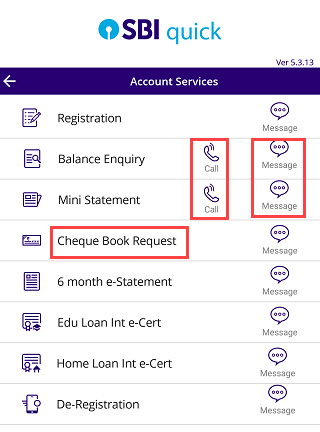 5: To manage your ATM card, tap on ATM cum Debit card. You can block you card, turn off your card for online, ATM and POS channels. Also you can generate green PIN to reset your debit card ATM PIN. (sms charges apply)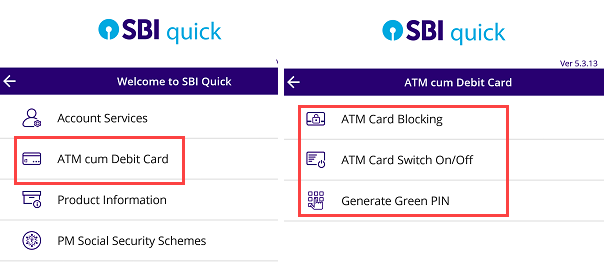 So this is how you can use SBI Quick banking facility which is based on SMS. If you don't have net banking or mobile banking facility then this facility useful for you.