Do you know "you can transfer money through your sbi account to any bank account without adding beneficiary". Yes, i am right, SBI Quick transfer facility allows you to transfer Rs.10,000 per day to any bank account.
As you know to transfer fund (money) to any third party account, first you need to add that bank account as a beneficiary, after this process you can transfer money to that person. Whatever payment method NEFT, RTGS or IMPS you have chosen, you must add beneficiary first.
Sometimes you have to urgent send money to someone, and adding beneficiary process take almost 4 hours for activation. So at this situation Quick transfer is best way to transfer fund without adding any payee (beneficiary)
Here is quick guide for you, how you can transfer money from sbi to any bank account without adding payee through Quick transfer.
SBI Quick Transfer: Fund Transfer Without Adding Beneficiary
Remind you, only Rs.10,000 transfer per day allowed with quick transfer. Let's see how:
This facility available through SBI Anywhere mobile banking application which available for Android, Windows phone and iOS platform. To use SBI Anywhere mobile banking application you just need net banking login credentials or SBI freedom user ID and MPIN.
See how to transfer money without adding beneficiary:-
1: Login to SBI Anywhere (personal) and tap on Fund Transfer tab as you can see below screenshot.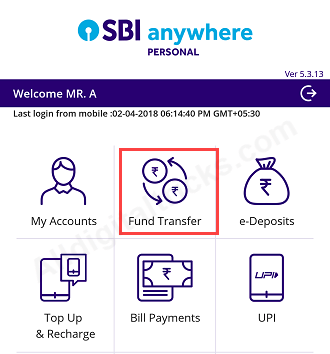 2: Next screen, tap on Quick Transfer option.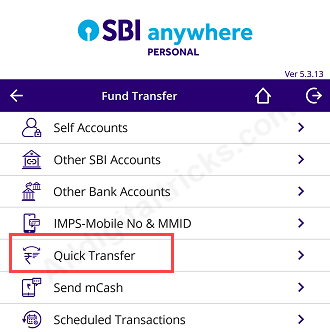 3: On next screen select Send Money option.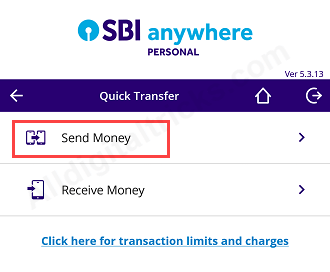 4: Now select your Debit account and tap on Pay Using Account Details.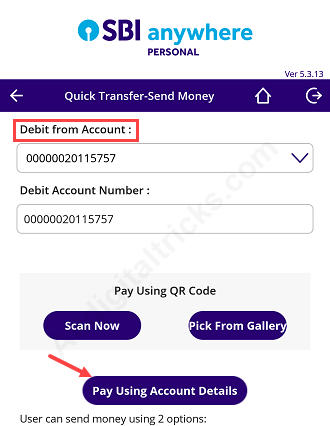 5: Next screen enter Beneficiary name, account number, IFSC code and enter amount (up to 10,000). Tap on submit. Agian, Confirm your transaction (Check details) and tap on Confirm.
6: You will receive One Time Password on your registered mobile number, enter OTP and submit.
Done! your transaction is successful and money successfully sent to beneficiary account.
Final Words
So friends, SBI Quick transfer is really very convenient facility for customers to send urgent money to someone. You can send daily Rs.10,000 to any one.
If you want to send higher amount then you have to add that person as  beneficiary & for lesser amount below 10,000 you can choose quick transfer.