SBI has launched Twitter Banking to access many online services on Twitter. If you are using Twitter social media platform and have SBI account then you can try this new Banking facility.
With Twitter Banking (mingle), you can check your SBI account balance & statement, transfer money to other bank accounts, block your card, request new Cheque book, stop cheque payment etc.
Here we will show you step by step guide on SBI twitter banking:
How To Activate SBI Twitter Banking facility
The registration process is very easy, you just need to send DM to SBI official twitter account. See how:
1: Login to Twitter Account and follow SBI official Twitter Account: https://twitter.com/TheOfficialSBI
2: Send DM to SBI in below format for registration:
Type #SBIreg<space>Account number (Example: #SBIreg 3019838338), please don't forget to add # tag.
Now you will receive an OTP on your registered mobile number, you need to DM this OTP.
Type #regOTP<space>OTP number (example: #regOTP 5463636)
After sending OTP, your regisratuon process complete. Now you can use different services by sending DM.
See below screenshot for registration guide: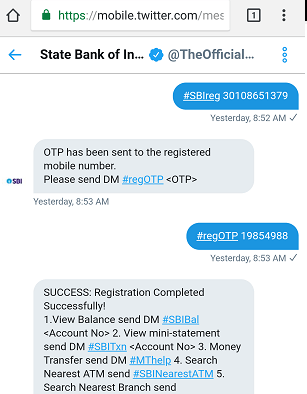 How To Use Twitter Banking Facility
Now see how to avail different Banking services on Twitter by sending DM. Please type DM message in the correct format.
1# To Check Account Balance
To know your Account Balance send DM like this:-
Type #SBIBal<space>Account number (example: #SBIBal 30103039833)
You will receive a reply within  a minute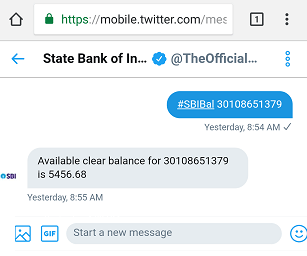 2# For Mini Statement
You can also check last 5 transactions details by sending DM like this:
Type #SBITxn<space>Account number (example: #SBITxn 301003938737)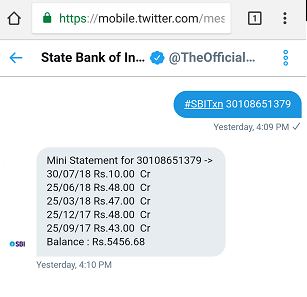 3# To Request Cheque Book
You can also place a request for new Chequebook and it will be delivered to your mail address.
Send DM in below format:
Type #SBICHQBook<space>Account number (example: #SBICHQBook 3010299283)
4# For Money Transfer
You can also transfer money to other banks account by sending DM on twitter.
Send DM in below format:
#SBItrf<space>Debit Account no.AmountBeneficary Account no. (Example: #SBITrf 3010863028 2000 30102938838)
You will receive an OTP, you need to send this OTP through DM.
Type #TrfOTP<space>OTP number (example: #TrfOTP 82918918)
5# Block your ATM Card
You can also Block your ATM card on Twitter by sending DM.
Send DM in below format:
Type & send #SBIBlockCardAccount number (Example: #SBIBlockCard 3010864636)
You can see Debit card list
Now Type #BlkCrd<space>last 4-digit card number (Example: #BlkCrd 5454)
For complete Services use this hashtag #Help
Tip: Please use (#) for every DM, else it will not work. Type DM message in the same format, no change in letters.
Do this is how SBI customers now access banking services through the Twitter account. If you are a Twitter user then you will love this feature.