You can now generate your SBI virtual Debit card online for online transactions, contactless NFC payments, and authentication purposes. If you don't have a physical debit card and require an SBI debit card for online transactions then you can apply for a free virtual debit card.
This SBI virtual Debit card is free and you don't need to pay any charges. You can use your Net Banking account or YONO SBI application to generate your instant virtual debit card. After getting your card, you can check your card details online and manage usage and limits.
So if you are looking for an SBI Debit Card for online transactions and don't want to use your physical ATM card then a virtual debit card is the best option for you.
Generate Free SBI Virtual Debit Card Online with YONO SBI
We will use the YONO SBI mobile application to apply free virtual Debit card. You can also use Internet banking.
(1) Open the YONO SBI Application and login with your MPIN. On the main screen, select "Cards"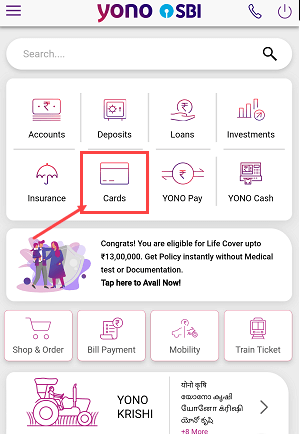 (2) On my My Cards section, go to 'My Debit Cards'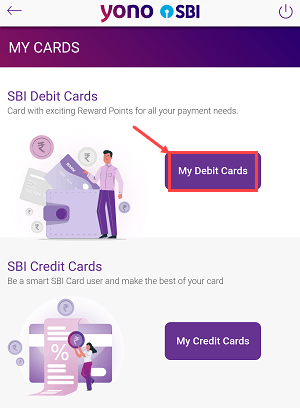 (3) Next screen click on 'Request a New Card' (Even if you already have a physical debit card, you can still apply for an SBI virtual debit card)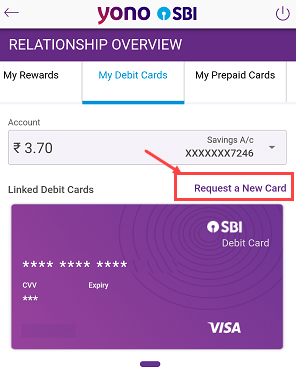 (4) In the type of Debit Card select "Virtual", and select your Debit card by tapping on the select the type of card.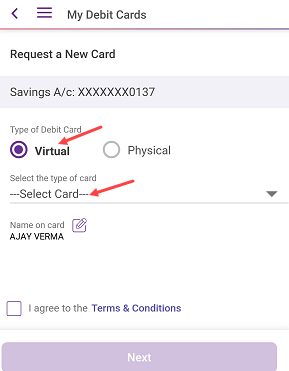 (5) SBI offers VISA, Rupay and Master Global virtual Debit cards. You can select any and proceed.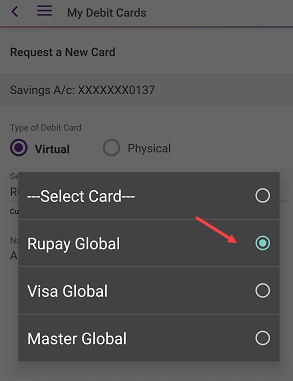 (6) You can enter your name on the card or leave it. Check the tick mark and click on the next button.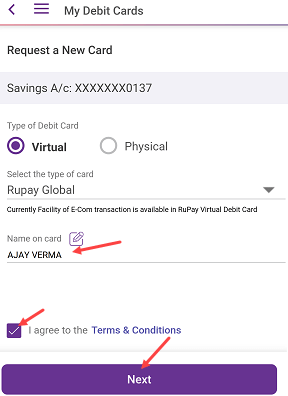 (7) For verification you will get an OTP on your registered mobile number, submit the OTP and proceed.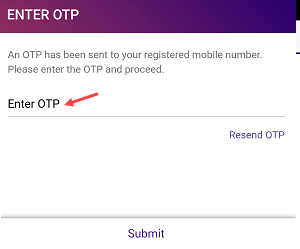 (8) Your SBI account virtual Debit card has been successfully generated. It's time to activate your card, so tap on the "Activate Card"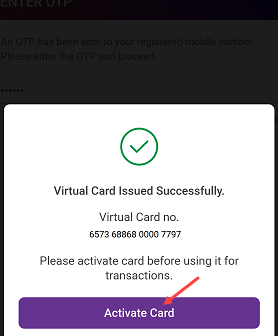 (9) Your card is now activated and enabled for online transactions. Now go to 'My Debit Cards' to view your virtual debit card and its details.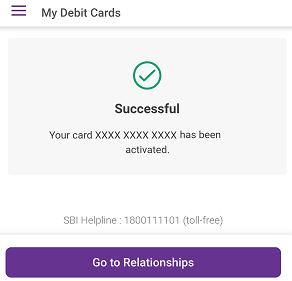 (10) You can view your newly generated virtual debit card now. Check your card number and expiry date here. Click on "Show CVV" to view your CVV details.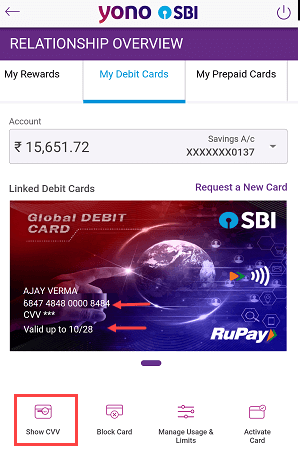 (11) To manage your virtual Debit card usage and limits, simply open "Manage usage & Limits"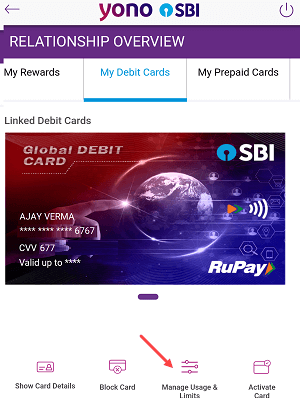 (12) In the manage usage and limits section, you can On/Off your card usage and also set limits for your card. Turn ON domestic usage and E-commerce transactions to enable your card for online payments. You can also enable NFC transactions.
Hope this step-by-step guide will help you to apply SBI virtual Debit card for free. You can generate your digital Debit card instantly.
This facility is also available on net banking so if you are not using YONO SBI, you can apply virtual debit card from your Net banking account.