Indian Bank customers can submit cheque details to the positive pay system (PPS) online using net banking and mobile banking.
What is POSITIVE PAY SYSTEM (PPS)?
As per Reserve Bank of India directives, Bank has implemented Positive Pay System (PPS) for all modes of cheque payments (Cash/Transfer/Clearing) effective from 01.01.2021. This is a measure to prevent fraud perpetrated through cheque tampering/alteration. Positive Pay System involves re-confirming of key details of the cheque by drawer to the Bank, which would be cross-checked with the presented cheque at the time of payment processing.
Here we will tell you, how to send Indian Bank Cheque details to the Positive Pay system online.
Send Indian Bank Cheque Details to Positive Pay System Online
If you have Indian Bank mobile banking active then you can send your cheque details to PPS online from your mobile phone. Let's see how:
(1) Open Indian Bank Mobile Banking and login. After login tap on the "Value Added Services" option.
(2) Now select "Positive Pay – Cheque Request" option.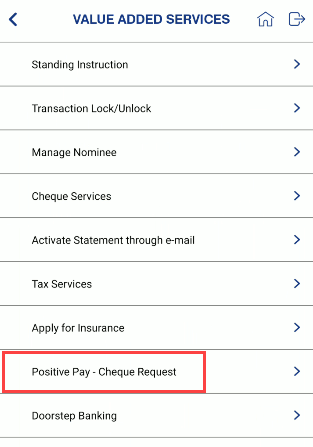 (3) And the next screen you need to enter your issued cheque details. Select your account number, enter the cheque number, cheque date, amount, trans code, MICR code, and payee name. Now submit these details.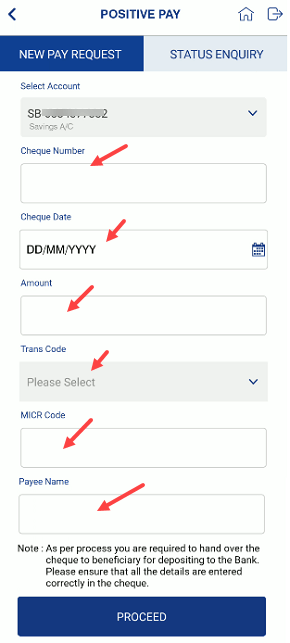 Done! you have successfully submitted your issued cheque details to the Indian Bank positive pay system. Now you can hand over the cheque to the payee.
To know your cheque number, trans code, MICR code, you can see the below image for help.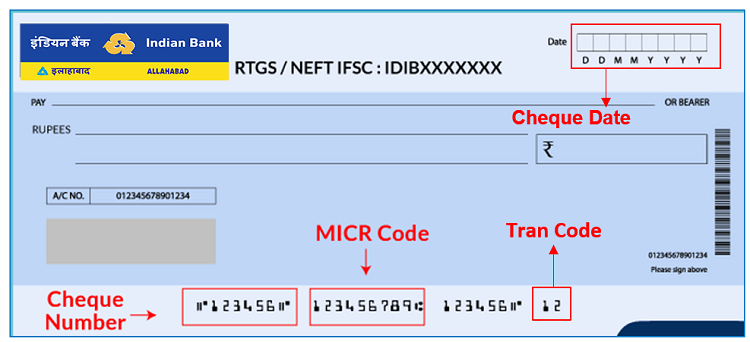 FAQs
Q.1: What is Positive Pay in Indian Bank?
Ans: Positive Pay involves reconfirming the details of cheques issued electronically. You will be able to share the key details of cheques of a value greater than Rs 50,000 with Indian Bank to add an additional verification before processing the transaction, to reduce instances of fraudulent transactions. The key details include your Account number, Cheque number, Beneficiary/Payee name, Cheque amount, Cheque date, trans code, and MICR code.
Q.2: Any charges for the Positive Pay system?
Ans: No, the Positive Pay facility is provided free of charge to all customers.