Did you know that you don't necessarily need a beneficiary's UPI ID, UPI number, or QR code to send money on PhonePe? If you only have their bank account number, you can still transfer money using this step-by-step guide.
Transfer Money to Bank account number on PhonePe
(1) To transfer money using a bank account number, launch the PhonePe mobile application and select the "To Bank/UPI ID" option.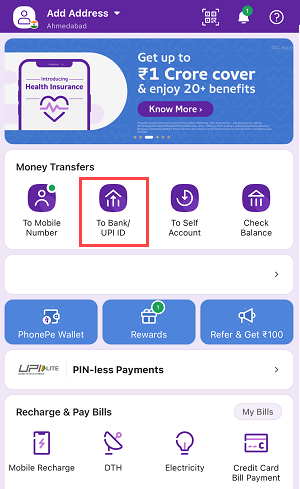 (2) Now add the receiver bank account account. Just tap on the "Add new Bank account" option.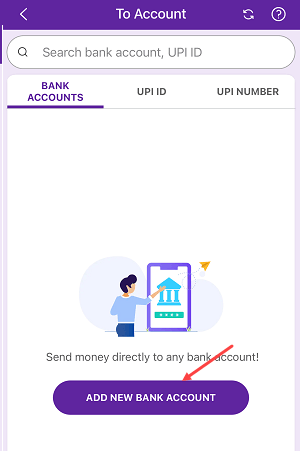 (3) Next screen search and select receiver bank from the list.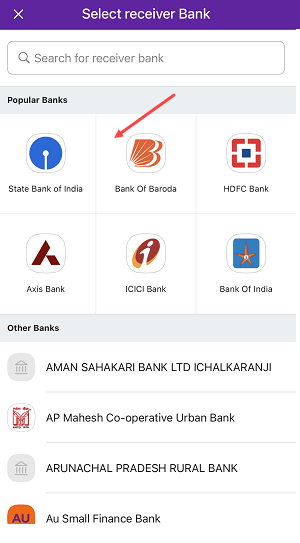 (4) Once you have chosen the bank, proceed to the next screen where you will be prompted to enter the recipient's bank account number. It is not necessary to manually enter the IFSC code as it will be automatically selected for you. Once you have filled in the required details, simply click on the 'next' button to proceed.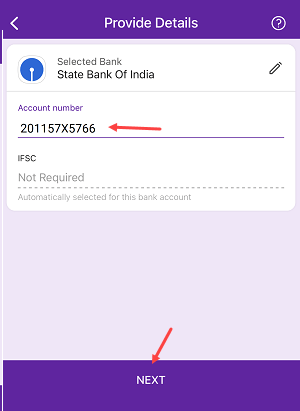 (5) When you enter the bank account number on Phonepe, the app will automatically retrieve the name of the account holder associated with that account. Once the name is verified and displayed on the next screen, you can proceed to send money by simply tapping on the "proceed to pay" button. This feature ensures that you are sending money to the correct person, giving you more confidence and peace of mind during your transactions.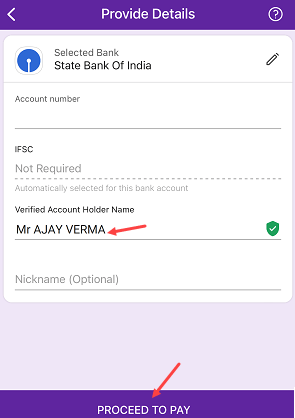 (6) To initiate a money transfer, just enter the specific amount you wish to send. Once you have done so, carefully select the debit bank account that you would like to use for the transaction. Finally, click on the "Pay" button to complete the transfer process.
(7) And next screen enter your UPI PIN number to process the transaction.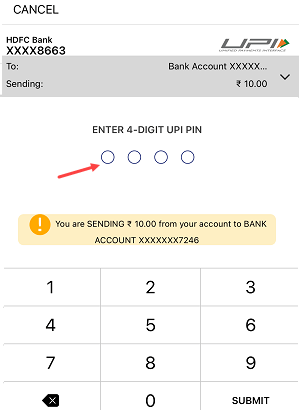 (8) Once you enter the UPI PIN, money will be sent to the receiver's bank account.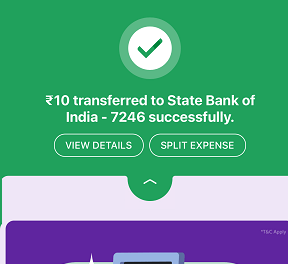 (9) You have successfully added the receiver's bank account as a beneficiary on your Phonepe app. From now on, whenever you need to transfer money to this beneficiary's bank account, you can directly select the account and send the desired amount. There is no need to enter the account number details again and again, making the process faster and more convenient.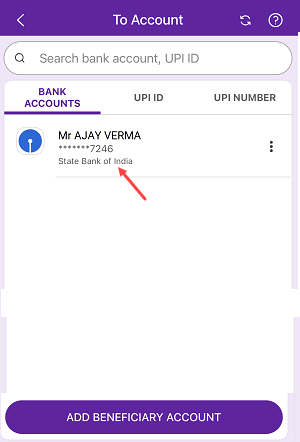 If you need to transfer money on PhonePe to someone who has only shared their bank account number, don't worry – it's still possible! You don't need to ask for their UPI ID or UPI Number. Simply select "To Bank/UPI ID" option on the home screen, and enter their bank account details to send the money. It's a quick and easy way to send funds without any confusion or hassle.