Do you have an ICICI saving account? If yes, then i must say you are using iMobile smart banking Application for banking.
iMobile is my most favorite mobile banking app as it has all the features available that make banking work very easy and fast.
Today I'm going to tell you about a special feature of iMobile which many users may not know.
The specific feature I'm going to tell about is iMobile Smartkeys – Yes, imobile Smartkeys feature will make you even more smart.
What is ICICI iMobile Smartkeys Feature
Suppose you have to transfer money from imobile, what will you do? Simply, You will open the iMobile application first, login  and then transfer funds.
But suppose you are chatting with someone on WhatsApp or Facebook and you have to send money to someone urgent, without opening iMobile and without having to close chat, then how you can do that???
Is it possible that you can send money from WhatsApp and Facebook without opening iMobile?
Yes you can do it – this is where iMobile's Smartkeys will work for you.
So let's see how you can send money to anyone during chat on whatsapp or facebook.
How to use iMobile SmartKeys
ICICI iMobile banking application is installed with a special Smartkeys keyboard. You can open this smartkeys keyboard anywhere and send money directly without login to  imobile.
See how:
1. Enable imobile Smartkeys
First, open the imobile Application and login it.
Tap on Smartkeys & Services.
Now tap on Smartkeys in the next screen
Now Tap on Change keyboard Settings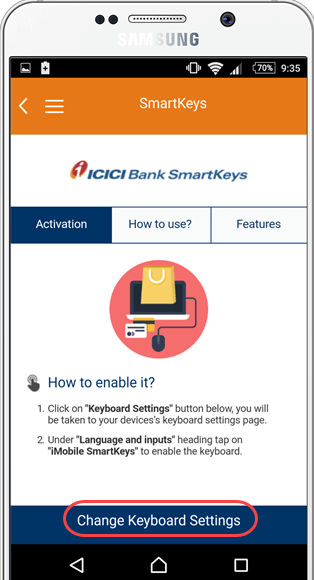 Now in the next screen you have to enable the ICICI Smartkeys Keyboard.
Great! now icici smartkeys are activated in your phone and now you can send money to anyone without open imobile.
2. Send money using Smartkeys
Remember you can send money only those person who added as a beneficiary (payee) in your account.
I am currently chatting on WhatsApp with my friend and he needs Rs.5000 urgent, now I can send him money on whatsapp using imobile smartkeys, I will not login imobile.
On the keyboard on WhatsApp you can see the keyboard icon to change the keyboard, tap on it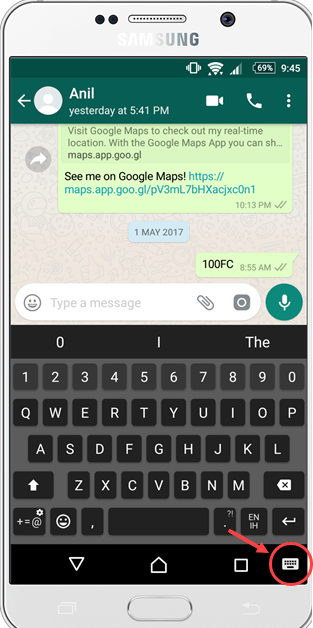 When you tap, you can see the available keyboards, here you have to choose ICICI smartkeys.
As soon as you select icici smartkeys, icici's keyboard will be open where you have to enter the PIN to login.
After logging in, you can see all of your added beneficiaries, just tap on the pay of your selected beneficiary.
Now enter the amount and submit it.
That's it you have successfully sent money to your friend's account, within seconds he will receive your money.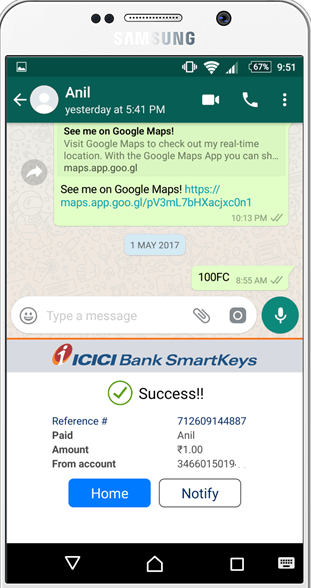 So this is how you can transfer money using imobile smartkeys from whatsApp, facebook or other Apps. You can open this keyboard anywhere, here i give you whatsapp example.
So friends, this is really great feature from ICICI imobile, that make you more smart, isn't it??